What an incredible weekend! Other than some dicey weather on Sunday we had perfect fall Woodie weather. Not too hot and not to cold. We started the weekend by meeting our Wagon master Joe Cosgrave and his wife Janice down in Morgan Hill for the first stop on the drive down to Cambria. Along with yours truly and my wife JoAnn we were joined by Jim and Malinda Alves. At our next stop in Salinas we met VP Arlene Solis and husband Joe, Ed and Marilyn Bowman and Gillian (Kleman) Parise, her husband Matt and daughter McCartney. It was especially nice to have Gillian and Matt along on the trip as this was their first trip out in the Woodie since the passing of Father and Santa Cruz Woodie Past President Rod Kleman. We know Rod was with us in spirit.
The cruise down 101 was pretty smooth until we were about 5 miles north of King City. That's when trouble struck. It seems like on every run or event lately one or more of our members gets struck with the dreaded breakdown bug (it happened to me in Santa Barbara for Woodies at the Beach in August). This time it was Jim Alves turn. I won't go into a lot of detail but suffice it to say that we all thought Jim's car was on fire and as it turns out it was steam and not smoke pouring out of the front of his car and covering both lanes of traffic on 101. After everyone stopped to check on Jim and Malinda and their car, AAA was called and one less car was able to participate in the weekend festivities.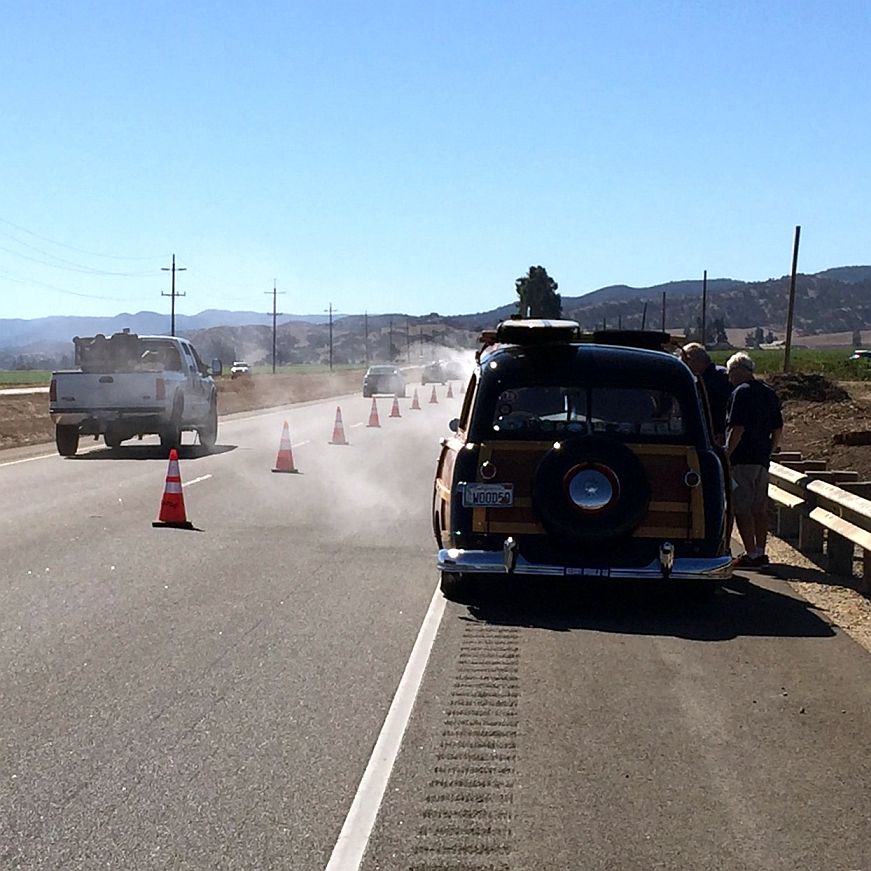 The rest of us made it down to Cambria and the Bluebird Inn where other members of the club were waiting with ice cold adult beverages out on the patio (the Hilton's, Christiason's, Carolan's, Savard's, Lloyd's, Sampson's, Tom Templeton, Toni Wilkerson, the Yugo's, Ron Heiden and Trina, and Kristina Benson along with daughters Sara & Katie.
Later that evening Wagon master Joe had made dinner reservations at the Sow's Ear Restaurant on Main St. which is about 2 blocks from the Blue Bird Inn. About 20 of us enjoyed a wonderful dinner and then either walked around Cambria or retired to the motel for a good night's sleep before Saturdays event.
Saturday seemed to come earlier than expected but most of us made it to the motel lobby for coffee before venturing south on Highway 1 to Morro Bay. The 20-minute drive was pretty straightforward and the views of the ocean from Highway 1 were breathtaking at that time of the morning. We arrived at Wave Lengths Surf Shop just in time to secure some prime parking spaces and after everyone else arrived a group of us went to Dorn's (overlooking the water) for a very hearty breakfast. After breakfast the SCWC women explored the town of Morro Bay and shopped for goodies.  The men went back to the show to clean the bugs and dew off of our cars.
The day turned out to be really nice weather-wise, and the town was celebrating with the 34th Annual Morro Bay Harbor Festival. The streets were lined with food and other vendors and the public turned out in droves to see our Woodies and enjoy the Festival.
Late that afternoon most of us left Morro Bay to drive back to Cambria and freshen up before the after party at the Benson's home. Many of you are aware that one of the most recognized and affable members of our club passed away this year. George Benson was not only a founding member of  Woodies on the Wharf but also of Woodies at the Rock. This year the Woodies at the Rock Event T-shirt was created in memory of George. George's wife Kathryn and daughter Kristina have seen fit to carry on the family tradition that was started so many years ago and continue with the after party which all of us enjoyed.  The food was fantastic and the company of dear friends even better.
Sunday morning at 5:00 AM the skies were dark and rain was coming down pretty heavily. We held off leaving for san Jose until 6:30 when the skies cleared.  Once out of Paso Robles the weather cleared and the rest of the drive home was uneventful with our beautiful California sunshine following us home. Others stayed in Cambria for a get together breakfast before heading off home and by doing so missed the rain entirely. Unfortunately, they did not all avoid the breakdown bug. Upon arriving in Paso Robles Gillian and Matt had a flat tire! Thankfully Tony and Linda Lloyd and ride along Toni Wilkerson were able to find them and in true Santa Cruz Woodie Ohana style stopped to help get them on the road again.
If you have not attended Woodies at the Rock, I highly recommend it. There are plenty of things to do in Cambria (visit the Hearst Castle, visit one of the many wineries, shop for antiques, eat at one of the assorted restaurants) or drive down the coast to Morro Bay.
We hope to see everybody at our next SCW club events which will be the Filoli Holiday Traditions Open House on November 30th and the Santa Cruz Holiday Parade on Saturday December 5, 2015 followed by a Open House for SCW members at the Hilton's. More information will be available on our website as we get closer to the date.