Two new Santa Cruz Woodies members, Jim and Cheryl Bassett, were kind enough to send along some details of their 1949 Ford woodie. It was discovered in Dearborn, MI after 42 years of being stored in a garage. Their woodie is a special car driven by Walter Reuther to help others live a better life in the future. The woodie was the sound car driven by Walter Reuther of UAW Local 174 during the 1950's to recruit UAW members in the Detroit area. Walter Reuther was an "American labor union leader, who made the United Automobile Workers (UAW) a major force not only in the auto industry but also in the Democratic Party and the Congress of Industrial Organizations (CIO) in the mid 20th century".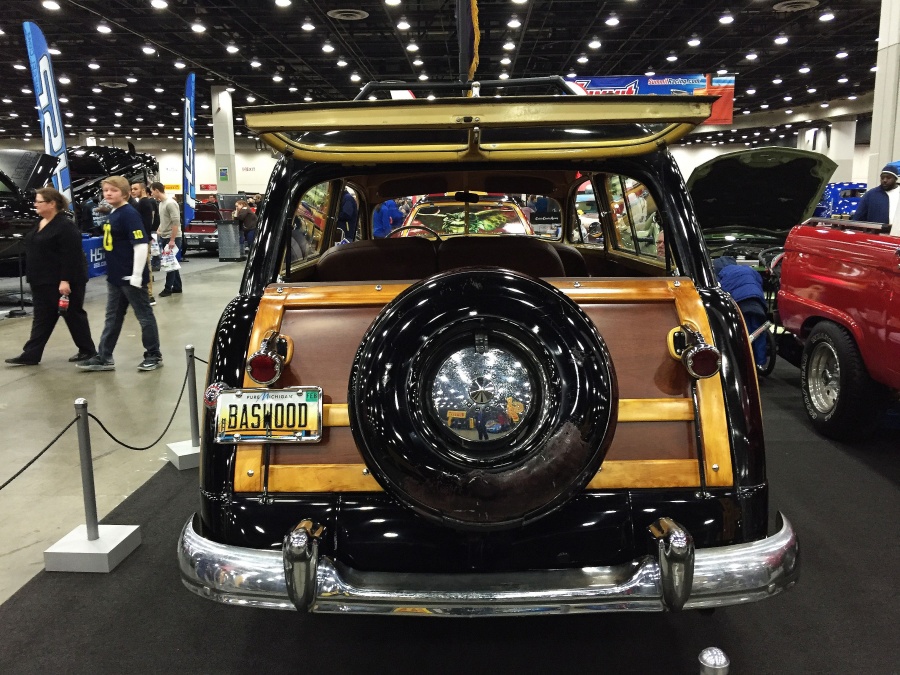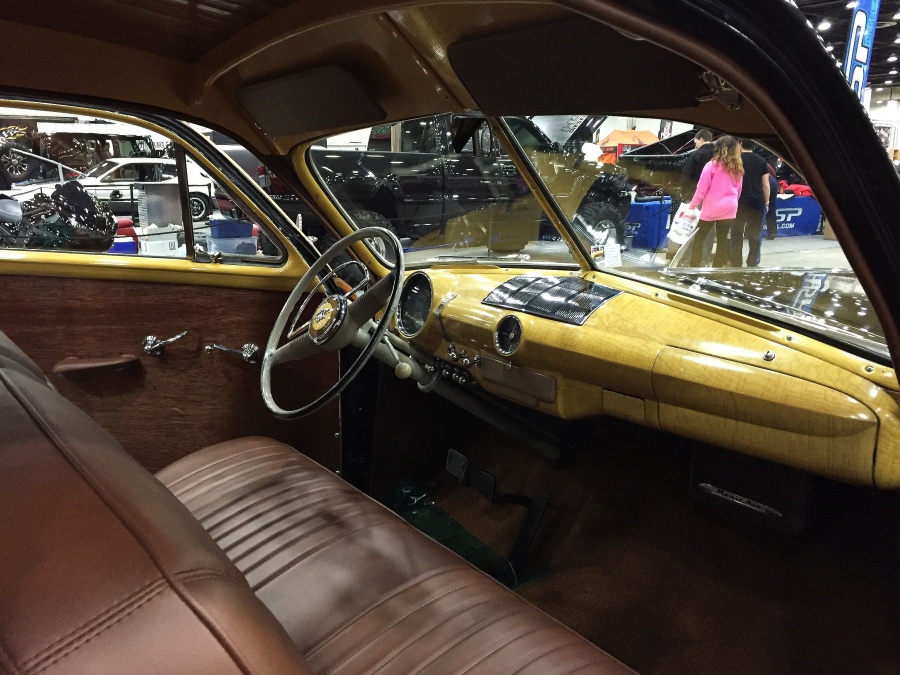 The woodie has 23,000 original miles and even has its original brakes. It has battle wounds on the roof of the car with the indentations from protesters trying to stop Walter Reuther from forming a union. It has the words "West Side Local UAW Local 174 CIO" actually on the wood on each side of the car. As Cheryl Bassett stated, "it is really amazing to drive the car around the Detroit area in the summer and to see all of the positive reaction from others on the road as we drive. The wear on the steering wheel is really interesting from driving in parades and protests; no power steering is tough!"
The Bassetts received documentation of the second car title; the 1973 sale from the UAW to Mr. Adams of Dearborn, Michigan.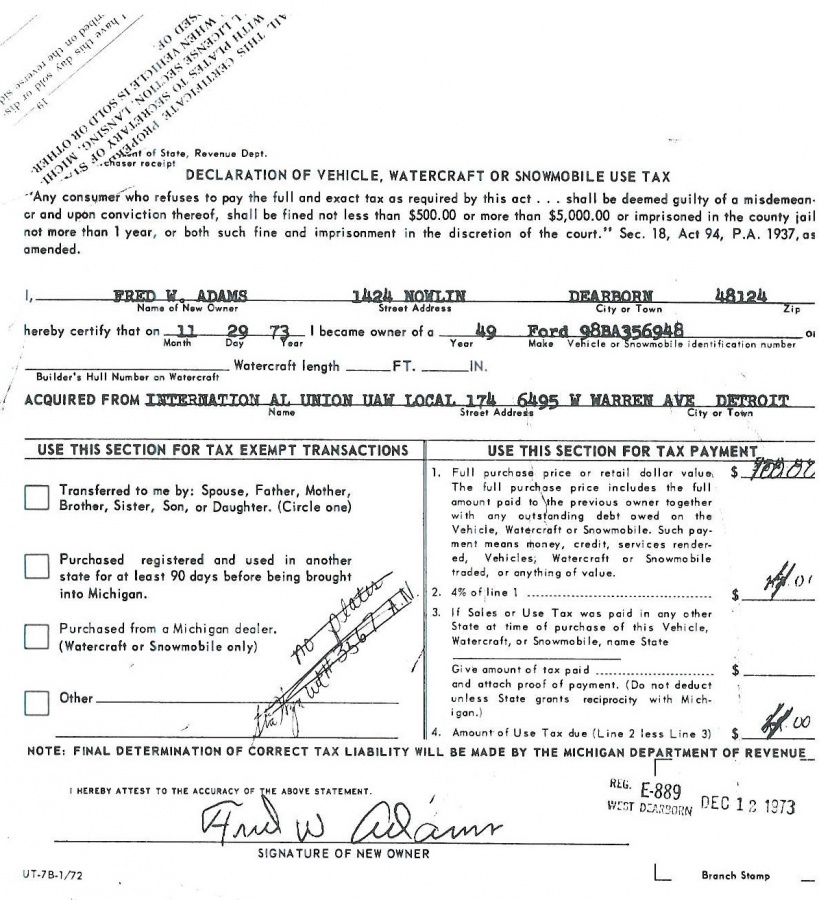 Below are photos of the items the Bassetts found in the car. The voting buttons are really cool and also confirmed that the car was an original. The key chains were in the glove box.
The Bassetts were invited to display the woodie in the Main Lobby at the Ford World Headquarters located in Dearborn, MI. Edsel Ford II is the owner of a 1947 Ford Woodie and they were able to meet him. Mr. Ford was able to check out the Bassett woodie in the Executive Garage before being displayed. He loves woodie cars and enjoyed the originality of the Bassett woodie.
The photo below was taken in the Executive Garage at Ford World Headquarters where the car was brought in for display. It was on exhibit for the executives at Ford to preview and then up to the lobby.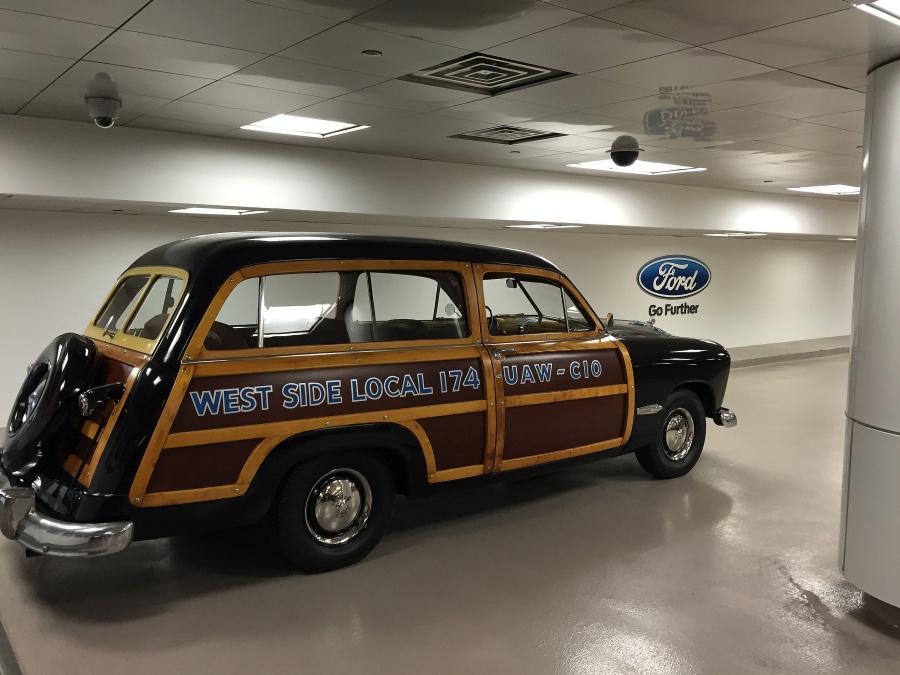 As special thanks goes out to Jim and Cheryl Bassett for the information they provided for this article and photos of their famous woodie.