In 2011 Santa Cruz Woodies members put a lot of hours in on making this year's Woodies on the Wharf in June the best yet. What better way to take a break from all the planning than to go for a ride on the National's "Drive Your Woodie Day". This year our Spring Cruise took us south on the Pacific Coast Highway to Seaside near Monterey. The parking lot between Costco and McDonalds was the meeting place for those coming from all over the Bay Area. Any time you put a bunch of woodies together, you're going to draw a crowd. We actually delayed our take off time so the people that took notice could enjoy the cars.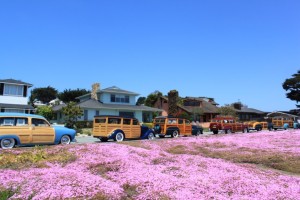 Once we left Seaside, we drove south to Monterey. Our course took us past the Naval Academy, alongside the Presidio and thru historic Cannery Row. The first photo opp for us was a stop in Pacific Grove. Right next to the Pacific Ocean is an ice plant patch that blooms this time of year with bright pink flowers. Pictures were taken by car owners and almost everyone that walked by.
On the road again, we paraded to down town Carmel by the Sea. Not sighting Clint Eastwood, we move on to the beautiful 17 Mile Drive. Club president Loren Steck pulled some strings and got a special pass for all the woodies. Driving along the coast, passing the famous Pebble Beach Golf Links and eye balling the unreal homes makes this part of the run the best. Loren and his wife Annette had another surprise up their sleeve. We stopped at Carmel River Beach, and were treated to a small sampling of wine from the Steck's winery. A toast was made to the great weather and super friends, then back in the wagons for our final stop.
Annette made arrangements at a neat restaurant named the Kula Ranch Island Steakhouse. The management reserved primo parking right in front. Again the crowds found the woodies an added treat while enjoying lunch. The staff had prepared a special catered lunch for us and out did themselves with the amount and flavor.
What more could you ask for, great weather, super food and sharing the day with friends. Drive Your Woodie Day should come around at least once a month.