Woodies were fairly well represented at the 6th annual San Jose Country Club Concours d'Elegance that benefited Make-a-Wish Greater Bay Area.  On a beautiful but sometimes overcast and windy day my wife JoAnn and I joined SCWC President Arlene Solis and husband Joe (SCWC Events Chairman) for a wonderful time spent among some really nice cars and even nicer people.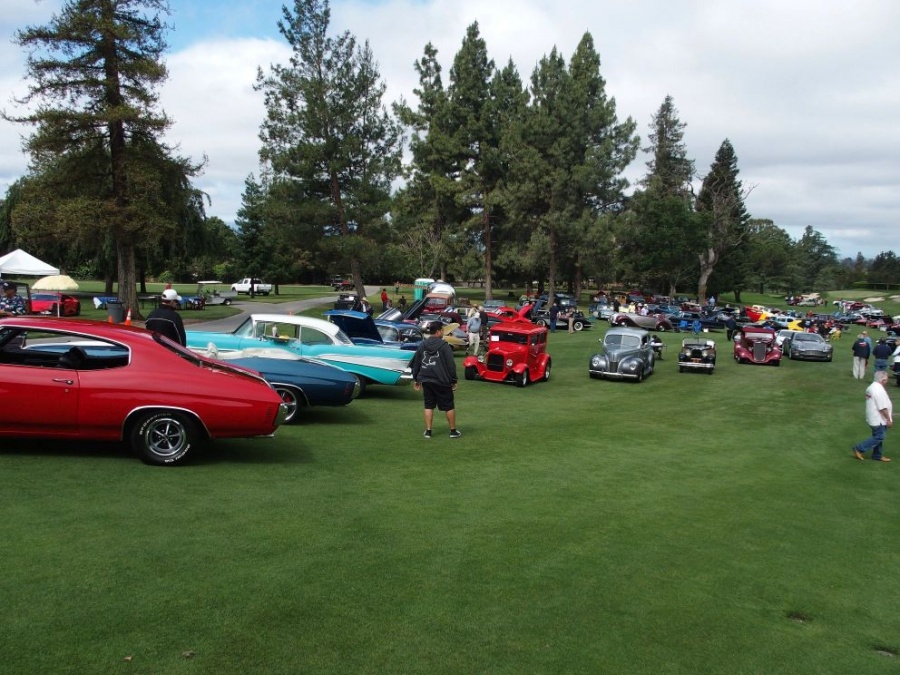 The Solis's joined up with us outside the golf club to drive through the classically gated entrance around 9 AM.  Everything was well organized; shortly after arriving we were directed to our parking spots on the beautiful green of the 6th fairway.  Over 180 cars were in attendance with a wonderful mix of antique, classic, exotic, street/hot rods and muscle cars.  There was truly something for everyone.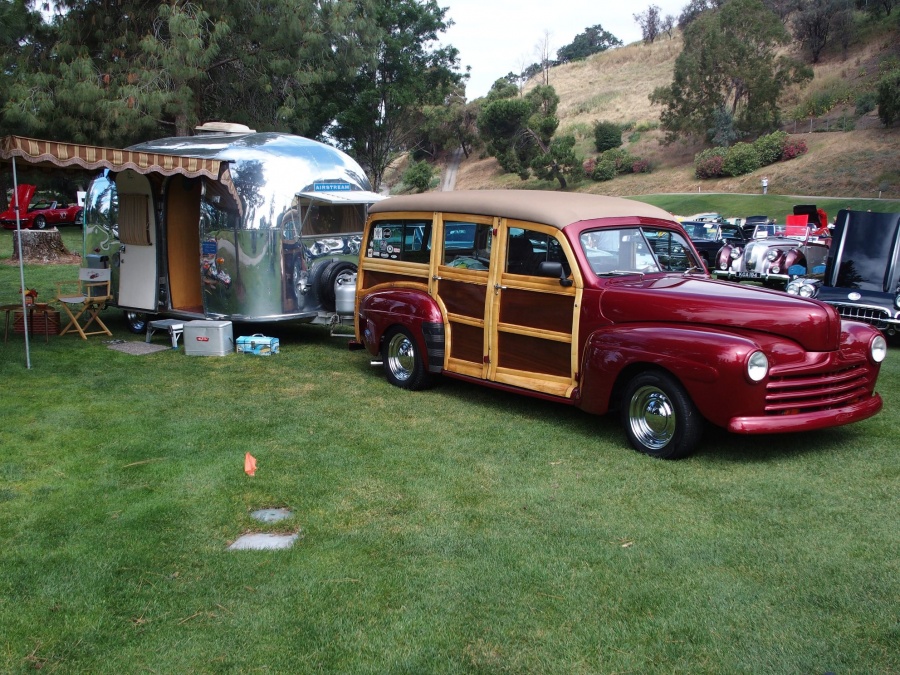 After registering our cars and getting our credentials and goodie bags, we walked around to see how many woodies had arrived.  It was an interesting blend of cars, some of which we rarely see.  The oldest woodie on the field was a 1929 Rolls Royce Shooting Brake followed by a 1933 Rolls Royce Shooting Brake. Also shown is an unusual 1937 Chevrolet, a 1947 Ford pulling a rare Airstream "Bambi" trailer, a 1948 Plymouth, Joe and Arlene's 1959 Morris Minor Traveller, and our 1950 Mercury.
Several vendors were in attendance supporting the event through sponsorships.  Our friends from Tesla Motors were showing the newly redesigned 2016 Model S as well as the Model X SUV with the falcon wing doors.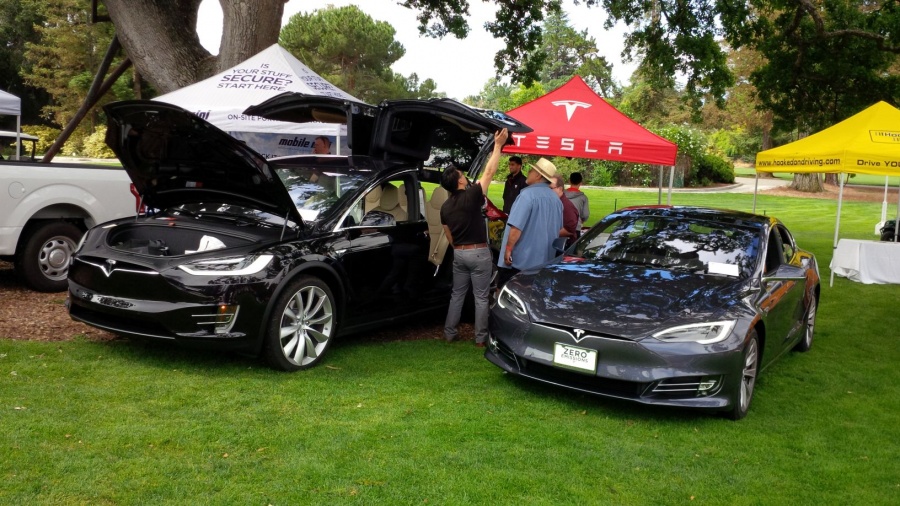 We spent the day looking at cars, talking with car owners and guests, and enjoying the companionship of good friends.  At 3:30 the awards were announced followed by a tasty BBQ Chicken and Rib dinner hosted by the S.J. Country Club along with music from a really dynamic live band.  Besides the dinner, the admission price included beer and wine tasting sponsored by Gordon Biersch Brewing Company and Guglielmo Winery.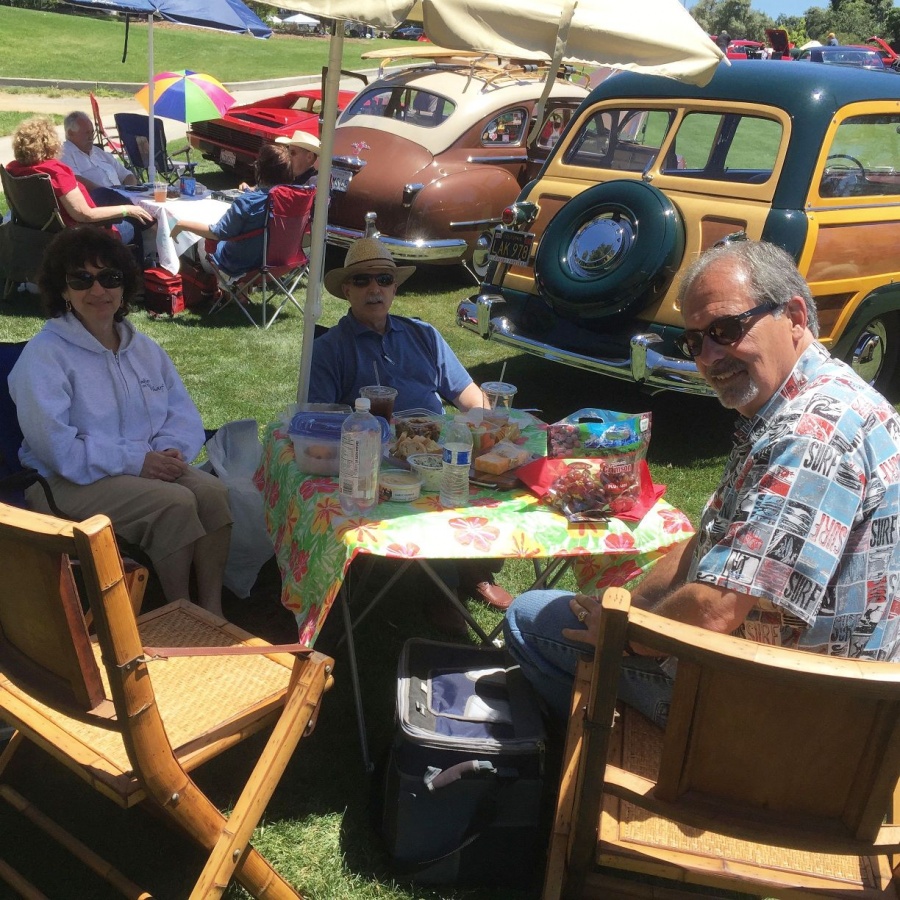 The event concluded around 5:30 and we leisurely drove off the beautifully manicured fairway on the way back home.  This is an ideal club event and a great value that SCWC members may want to consider attending next year.