This year three of our Santa Cruz Woodies Next Generation won National Woodie Club scholarships. Their winning essays are included below along with notes from a very proud grandmother and mother. Please enjoy their winning essays; they each speak to the heart of our Santa Cruz Woodies family.
Our twins, Katie and Sarah Bolts, attended their first Woodies on the Wharf at the ripe old age of ten weeks! They arrived in woodie strollers that their Papa made and have attended every WOW since then, growing up with their Santa Cruz Woodies family.
This past June they graduated from high school and have both been accepted at their first-choice universities. Sarah will be attending California Lutheran University majoring in biological science and physical therapy, and Katie is going to Cal Poly State University majoring in business and graphic design.
We like to believe that the love and encouragement they have received from our SCW family has helped to mold them into the people they are now, embracing them as they grew up with the music and celebrations of SCW. Their relationships with so many of you helped to give them the confidence and strength they will need in their future endeavors. It was with great pride and joy that both Katie and Sarah announced that they were selected to receive scholarships from the National Woodie Club based on their applications and scholarship essays. Katie was awarded second place with a scholarship of $1,000 and Sarah was awarded third place with a scholarship of $750.
I have attached their essays for you to read. Thank you to all of you who have helped to make these past 18 years with Katie and Sarah an incredible journey. We look forward to celebrating their graduation from college with you all.
Aloha,
Kathryn Benson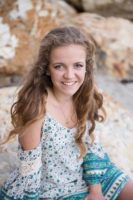 Kathryn (Katie) Bolts
Graduated From: Templeton High School
Attending: California Polytechnic University, San Luis Obispo
Essay Topic Number #11: Present the "woodie view of life"
The woodie point of view is not how it first appears. To an outsider, the woodie way of life seems to be all about making the perfect show car that is always shiny and never dirty. However, the reality that every owner knows is that woodies were meant for memories and adventures. I adopted this philosophy after being restored by a surfer and woodworker with a passion for woodies since high school. I am George's woodie.
I began in disrepair in a lonely garage with a broken window. Because of this, rain and wind frequently came through and ruined my right side. I was rescued by George and Kathryn in 1992 and had to be duct taped together to make it to my new home in Cambria, California. For a year, I was visited every single night to be fixed and cared for. I saw the true passion that woodie owners like mine had. The minute I could run, I became a regular taxi to the beach. I was constantly filled to the roof's wood slats with surfboards, beach bags, and surfers. I was in no way perfect, as sand and salt became apart of my carpet and seats. However, I preferred that over sitting in the garage.
My first car show was Wavecrest in San Diego and my owner soon became a west coast director for the National Woodie Club. I also fell in love with the Santa Cruz Woodie Club. My Santa Cruz woodie family started small but has grown to hundreds. After a long day at the Santa Cruz wharf, we parade together and park in the same hotel parking lot to get ready for tailgating, partying, and good music.
Up until then all of my family could fit comfortably in my seats until…twins!! I helped haul parts and pieces of strange new baby strollers and soon had two mini friends. George had built two push strollers that looked like woodies for the new family additions. My backseat was soon the place for strawberry ice cream and the sticky hands of granddaughters at Woodies on the Wharf. Then I inspired George's daughter to build her own woodie and I had a new friend to cruise with downtown.
I've become ingrained in almost every aspect of my family. The restoration process brought my people together and invited new lifelong friendships. For my owner's two daughters, I was the magical wedding carriage that drove them to and from the church. For local amputees, I was the welcome that led them to the beach to go surfing for the first time through the Amp Surf Organization.
More than twenty years have gone by, and I am still a Benson. I live a laid back life and still frequently visit the beach and Santa Cruz. Even though my driver has changed, I still live by George's idea of how a woodie should live. I don't just sit in a garage to keep in pristine condition. I have scratches from the beach, my tires are worn from highways near and far, and my seats are weathered from sand and salty air. You won't find me winning awards for best in show, but I can guarantee that I've had the best smiles.
I live like George.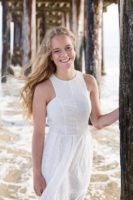 Sarah Bolts
Graduated From: Templeton High School
Attending: California Lutheran University
Essay Topic #10: How would you explain your involvement with your family's Woodie to a new roommate?
Explaining the Santa Cruz Woodie Club to a friend is no easy task, but there is one word that perfectly describes the club– family. From my very first day outside the hospital being pushed in matching woodie strollers with my twin sister, to our first Woodies on the Wharf in 1998, when we were only two months old, and even still today, the woodies have been right there driving me to my Santa Cruz family. The cars hold many memories and traditions that we remember every year. One of them being the drive up to Woodies on the Wharf. While we're there, you can always be sure to see us eating strawberry ice cream in Papa's car and helping to polish the woodies (even if they were our woodie strollers). Though the cars are a huge part of my life, I now realize what makes them so special, and that is the people they take us to. The people are the reason we keep coming back year to year. There is no better feeling than when you pull up into the parking lot and see the faces of your family and knowing you are home. You can go to any car show to look at the cars, but you wouldn't be able to compete in the wacky tacky shirt contest or dance and sing to music in the hotel parking lot. I like the cars, but I love the people.
So, you ask how I can describe my involvement with woodies to my new roommate? I would show them. I would show them the "air conditioning" in the car by rolling down the windows, the smell of exhaust that somehow smells like home, and the waves you give people as you pass them on the road. Most importantly I would invite them to Woodies on the Wharf so they could meet my family. My crazy, loud, lovable woodie family.
Shannon responded to the essay "how would you explain your involvement with your family's Woodie to a new college roommate." As you can see in the essay, going to Santa Cruz every summer with her family for Woodies on the Wharf has been a highlight for her. Shannon was thrilled to be recognized by the National Woodie Club in their scholarship application process. She just called home from college to share how expensive her text books will be this semester and the scholarship money will go to good use. Thanks to all of the contributors to the scholarship fund and for being great friends to her grandparents and our family.
Thank you again,
Tascha Whetzel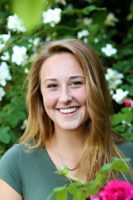 Shannon Whetzel
Graduated From: Ukiah High School
Attending: Santa Rosa Junior College
Essay Topic #10: How would you explain your involvement with your family's Woodie to a new roommate?
I am super excited to see you in June and move into our apartment. The weekend before I move in I will be going to Woodies on the Wharf in Santa Cruz. My family started going to this amazing car show in 2000 when I was just two years old. I have had so many fun memories with my family and all the beautiful cars on the wharf. My great uncle John found a 1950 Ford Woodie in a junk yard in Idaho in 1999 and hauled it on a trailer back to California. My grandpa Pete and Uncle John brought it back to life with a lot of hard work and time. The car was customized and ready for its' first show in June 2000 at the Woodies on the Wharf. I don't really remember that first time in Santa Cruz, but I remember many others since then. I have actually attended most of the Woodies on the Wharf in the last 16 years. Most memories involve staying in the same hotel room with my grandparents and walking to the wharf for some really good clam chowder. Getting to see my cousins, going to the beach to catch sand crabs, and riding the rides at the boardwalk have been some unforgettable memories. I remember the whole parking lot at Ocean Pacific filled up with lawn chairs, people and Woodies. The best part was singing backup to Jimmy Buffet songs with other kids from Woodies families. I remember a very special trip with the Woodie that was different from the annual trek to Santa Cruz. My grandparents had a special tradition with my sister, brother and me. When we were each in the fourth grade, we were invited to cruise down the coast of California to Moro Bay for Woodies on the Rock. Because I was in the fourth grade and studying California history in school, we visited many beautiful missions from Ukiah to Cambria. I remember people giving us complements about the Woodie and asking lots of questions about its' history. We also visited Hearst Castle in the Woodie. My grandparents owned this 1950 Ford Woodie until 2011 when they passed it down to my uncle and my mother. I look forward to more Woodies on the Wharf gatherings with my grandparents and family. I hope to one day share this beautiful car with my siblings and cousins and continue enjoying making friends and memories with Woodie owners.