We always look forward to the Spring Cruise. Held on National Drive Your Woodie Day, it is our club's first big cruise of the season. A chance to polish up the woodie, mount the surfboards and head out for a day in the California sunshine. Well, this year it played out a little differently. It was all about checking to see if the wipers worked, and stocking up on "Rain-x" because the California sunshine was liquid!
For the most part we are a hardy bunch, not prone to melt. A little rain is just nature's way of washing a woodie, so off we went. Those choosing instead to drive their modern cars were welcomed with only good natured teasing by the folks in the 12 woodies who traveled from various directions to join us. Our first major stop was at the home of Dennis & Kathy Varni to visit their wonderful collection of classic cars and motorcycles, their extensive display of vintage and antique automotive and related memorabilia, and their absolutely beautiful restored Victorian home and surrounding grounds.
The array of unique and beautifully displayed items throughout the home and garage was so impressive! With the thought, care and love that has obviously gone into everything they have accomplished, we easily could have spent the day there.
All too soon we were off to our next stop, the Winchester Mystery House. The world famous Winchester Mystery House in San Jose, CA. is # 868 on the list of Historic California sites. When Sarah Winchester's husband, inventor of the Winchester rifle, and child died she became convinced she had been cursed by the ghosts of those struck down by the "gun that won the west." A medium sent her to San Jose in 1884 to begin a massive 38 year, 24/7 construction of a 24,000-square foot, 160-room gothic mansion.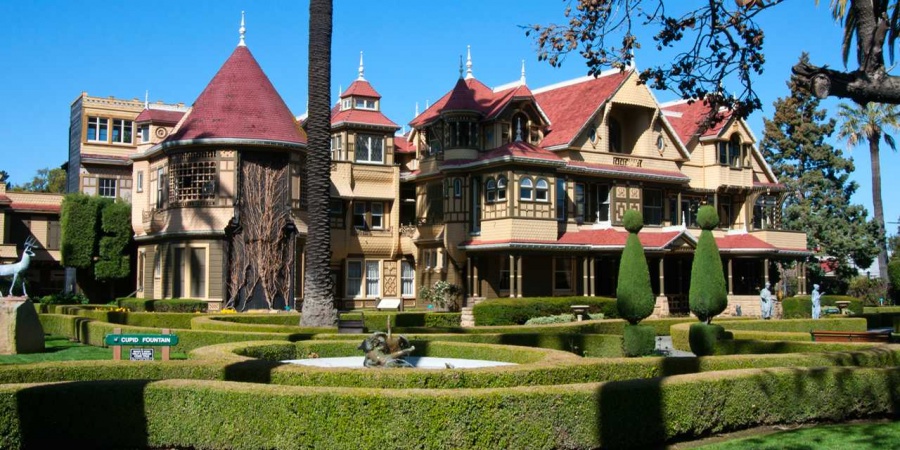 The house is an extravagant maze of victorian craftsmanship: marvelous, baffling, and eerily eccentric. The first instruction from our tour guide was not to stray from the group, or you could end up lost for hours! Countless questions come to mind as you wander through the mansion. Such as, what was Mrs. Winchester thinking when she had a staircase built that descends seven steps and then rises eleven, or one built that leads up flights only to end at a wall? You encounter doors opening to drop offs of several floors, or nothing but solid brick walls. One stairway takes you up only 9 feet but includes 44 steps and 13 hairpin turns. The whole structure is built of redwood and the interiors include the use of mahogany, rosewood, teak, maple, oak and white ash. Needless to say there were those among us who couldn't help but think of some of that wood gracing a woodie, or perhaps a surfboard. Thankfully no one tried to sneak any of that "good wood" out when we departed!
From there it was off to Santana Row, an upscale San Jose shopping and restaurant destination point, for a late lunch at Rosie McCann's Irish Pub: The perfect spot for a late lunch and for a relaxing chance to catch up with each other over offerings of fish & chips, irish shepherd's pie and maybe a pint or two.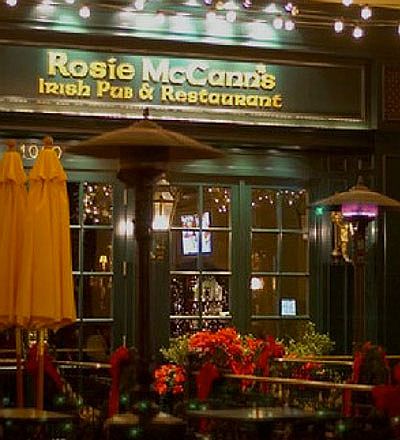 All too soon it was time to say good-bye, but there were no sad faces. We shall be meeting again, hopefully in the real California sunshine, when we all gather in Santa Cruz on June 23rd thru 25th for the 22nd annual Woodies on the Wharf!
Special thanks go to Dennis & Kathy Varni for so graciously opening their home to us, and to Joe Solis, SCWC Events, for planning this great day together!