Another Santa Cruz Holiday Parade under our belts and what a wonderful day it was. Last year, due to the inclement weather, few Woodies and even fewer people braved the rain to celebrate the start of the Christmas season. What a difference a year makes! While those of us who live in California are still praying to the weather Gods for rain, today they spared us from bad weather. Even though it was a blustery and very cold fall morning, many of your SCWC O'Hana showed up at 8:30 A.M. to assemble in our usual spot at Spruce Street and Pacific Avenue to decorate our Woodies and join in the annual Santa Cruz Holiday Parade fun.
I really look forward to this event every year as seeing all the kids and adults dressed up for the Holiday's brings joy to my heart and ushers in the Christmas season with good cheer. Fifteen Woodies showed up, and shortly after 10 A.M. we took off down Pacific Avenue with a marching band in front of us.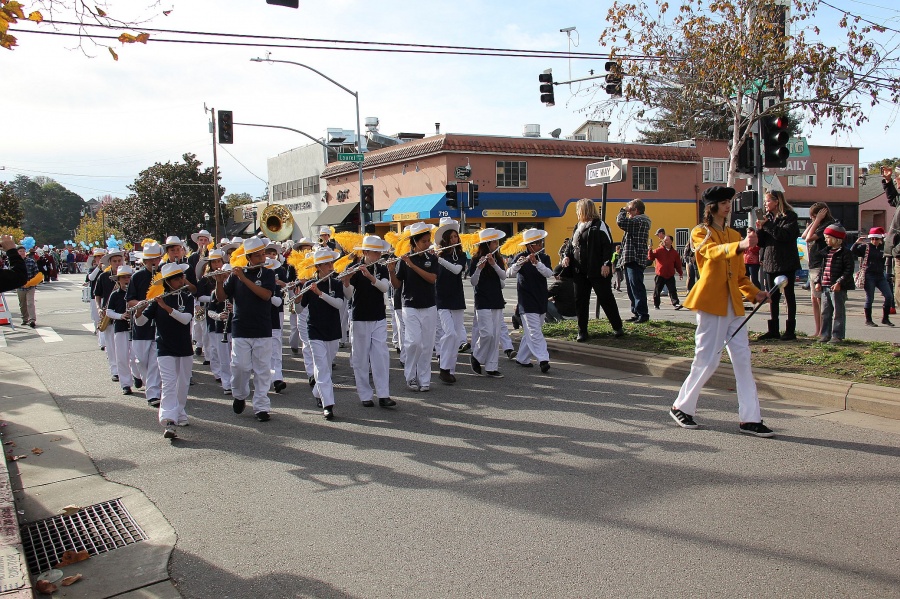 With future President, Arlene Solis, and her husband, Joe, in the lead we slowly drove along the Avenue much to the delight of the spectators of which there were many. In fact, I can't think of a Holiday Parade in recent memory that attracted so many spectators.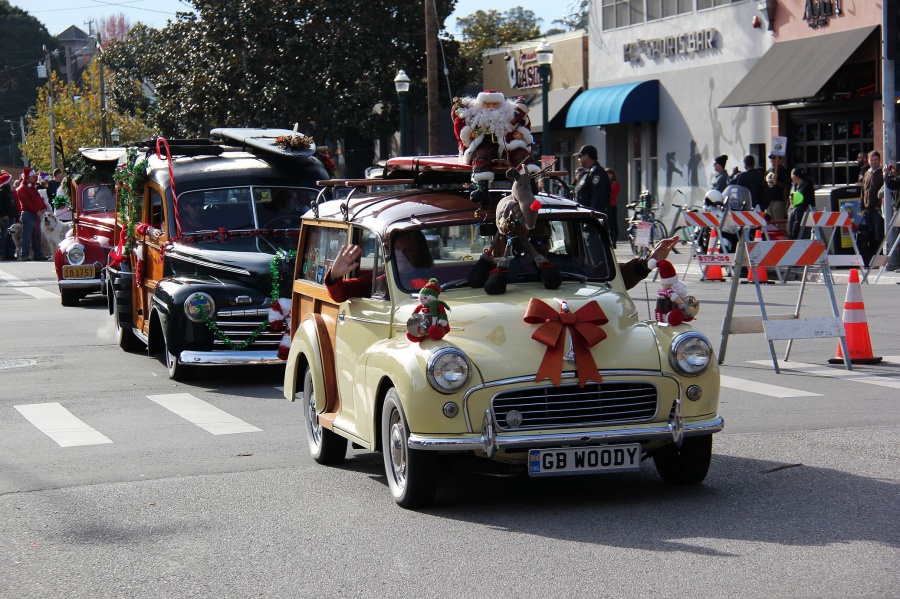 Clearly there was a lot of holiday spirit and good cheer in the air.  Besides the Solis's, club members who drove their Woodies included Jim and Sue Vickery, Bob and Laura Faust, yours truly and wife JoAnn, Carl Biggs, Club Kahuna Don Iglesias and his wife Cathy, Alan and Jules Hilton, Dave and Andi Welles, Paul Gustafson, Walter and Marsha Nakamura, and a number of others whom I did not get a chance to talk to (I apologize if you were not mentioned).
New club members Pam and Jim Candler (Jim just finished street rodding a beautiful green 1946 Ford Woodie) showed up for the parade and were parked about a block behind the rest of us but were not able to join the festivities.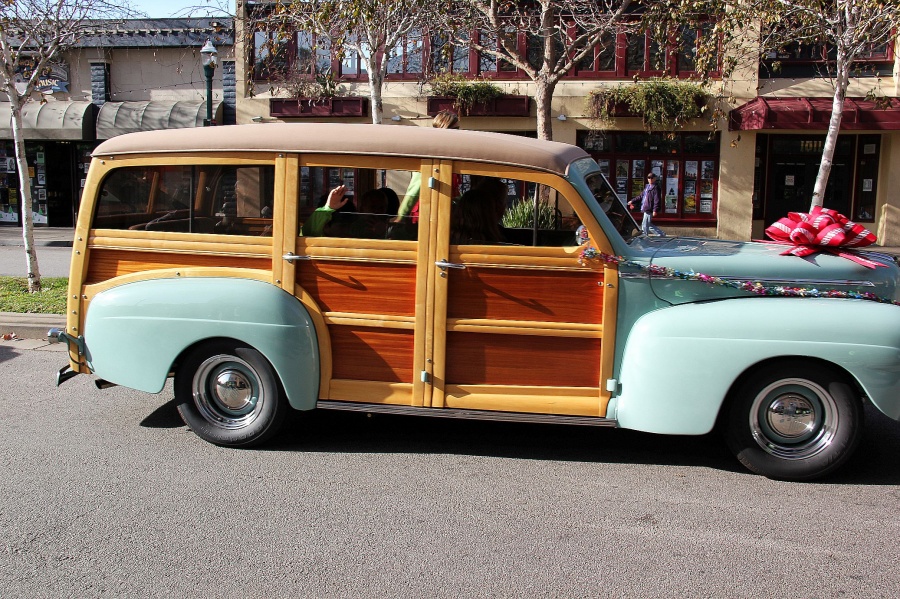 They had a previous engagement with the car and left early to join another parade with the Spring Hill School where their Grandson is in the 4th grade.  He and three of his friends rode in the Woodie while three of Jim's daughters and their families walked in front with the rest of the school facility and students. It was a real family seasonal affair.
We were all excited to see Santa Claus on Pacific Avenue who showed up driving his Christmas Red 1940 Ford Standard Woodie and wished everyone a Merry Christmas (Santa Claus is rumored to spend his summers relaxing in Santa Cruz and even though he's real busy this time of year we put in a special appearance request and, lucky for us, he agreed).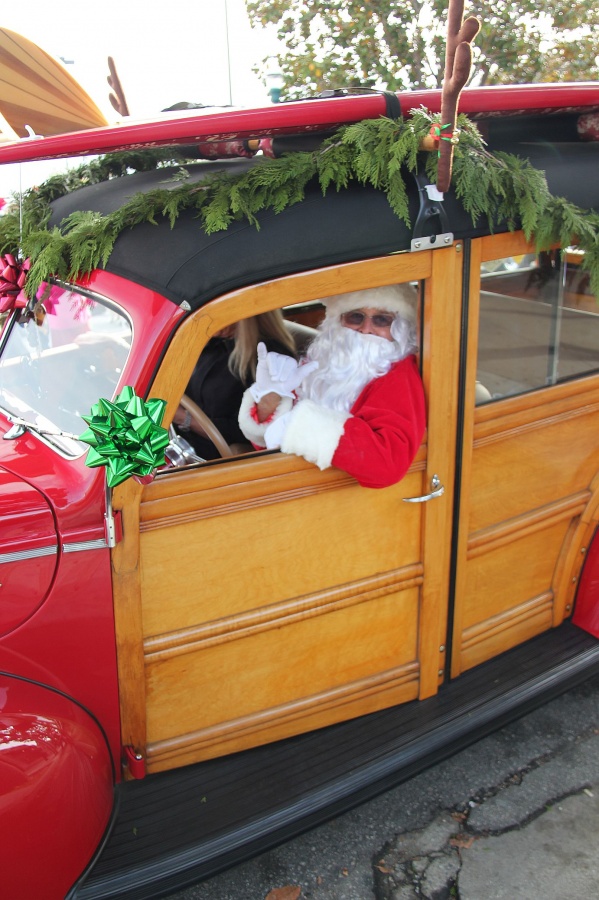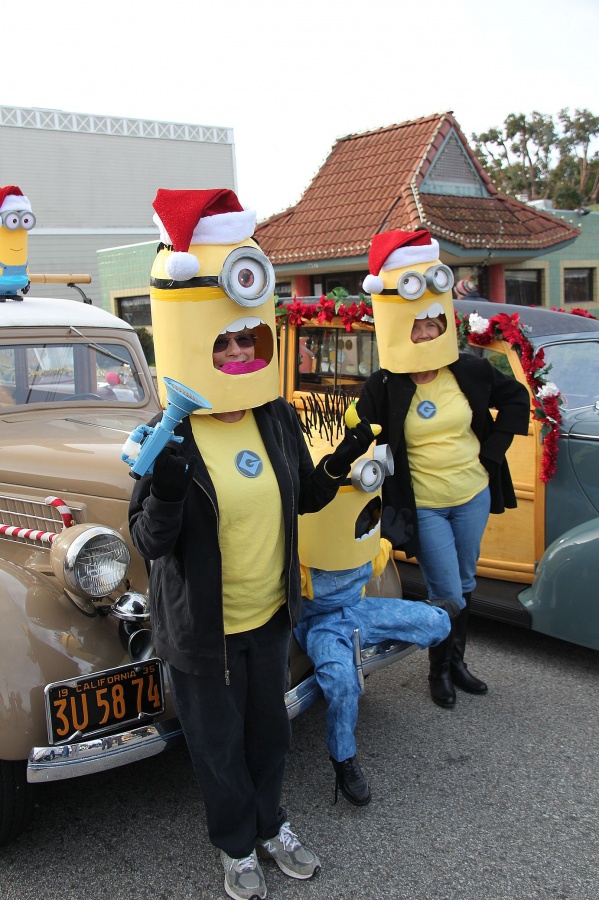 There was also a surprise appearance by two of the Minions along with their 1935 Ford Woodie Minion mobile.  With all the cars decorated for the season we rumbled down Pacific Avenue to the excitement of everyone who lined the streets to wave, cheer and celebrate this very special time of year.
Afterwards we were invited to the Hiltons for what has become our annual post-parade holiday party where a potluck was served with adult beverages along with spiced hot hard apple cider.
As has been the custom, we used the gathering to assemble the mailing for the upcoming installation dinner to be held on Saturday January 16, 2016. If you do not receive your invitation by USPS mail in the next week or so, please contact our club secretary, Dorma Baker.  I would also like to remind everyone that your club membership is now up for renewal. The cost is $25.00 (a bargain by today's standards) and is due by January 1. You should have received an email reminder from our new club membership Chairman, Jim Vickery, with instructions on how to renew. If you haven't you can go here for more information.
In closing I'd like to wish everyone and their families "Mele Kalikimaka" (Merry Christmas) and a happy, healthy and prosperous New Year. I hope to see you at our upcoming installation dinner on Saturday January 16, 2016.
Aloha
Phil