Make your plans now to join us on June 23, 2018 at the Santa Cruz Wharf for Northern California's largest woodie show featuring more than 200 wood-bodied cars. Admission is free! music, woodie goodies, and prize drawings add to the fun. Free bike valet is available on the wharf. Book early and join us for what is sure to be the woodie event of the year! Planning will start early 2018 so please check back frequently to get new updates.
Santa Cruz Woodies is grateful to the City of Santa Cruz and the Santa Cruz Wharf for continuing to support Woodies on the Wharf year after year.
SCW Members be sure to check your emails for special, club member event updates. Please contact Joe Solis for other event details.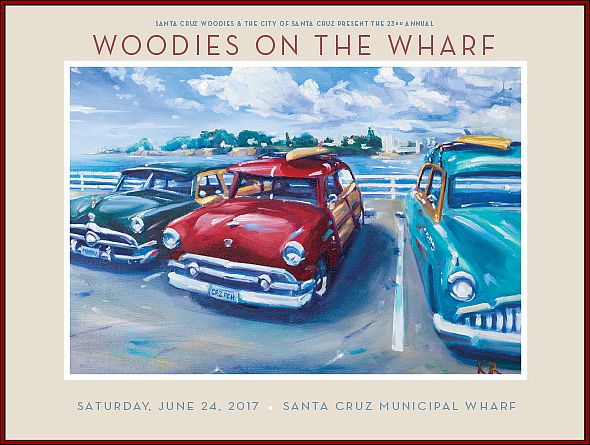 Heading to Woodies on the Wharf?
Trolley Transportation
The trolley is the best way to get back and forth between the beach and downtown areas to avoid all the beach parking and traffic. The Santa Cruz Trolley is convenient, ADA-accessible, and an enjoyable way to experience what Santa Cruz has to offer for all ages. For only 25 cents trolley riders can park downtown and hop on the trolley at the Locust Street Garage or Del Mar Theatre to easily get to the Santa Cruz Wharf, Main Beach, and Boardwalk. We hope to see you on the trolley! Route map and stop information can be found on the Santa Cruz Trolley website.
Parking for Trailers Used to Haul Woodies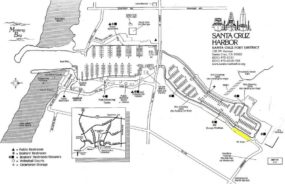 For Woodie owners wishing to store their trailers for the Woodies On the Wharf weekend, trailer parking will be available at the Santa Cruz Harbor. Owners must first check in at the Santa Cruz Harbor Office, 135 5th Ave., Santa Cruz. Office hours are 9 a.m. to 5 p.m. Harbor Office phone number is (831) 475-6161. Upon check in you will be given a map and a tag permitting parking in the dry storage area at the 7th and Brommer St. entrance to the North Harbor. The cost will be $20.00 per day for parking.
Thursday, June 21st
5:00 to 8:00 pm – Fourth Annual Grand Beginnings Welcome Party at the Hilton's – Welcoming Club Members & All Woodie Owners
Hosted by SCW and Alan & Jule Hilton at their home, 1124 East Cliff Drive, Santa Cruz, on the river cliff overlooking the Boardwalk. Come join old friends in a bit of welcome Aloha! PuPu's and non-alcoholic refreshments will be provided. Those wishing other refreshments are asked to bring their own. While we don't expect our out of town family to bring anything but themselves, it would be appreciated if locals would bring an appetizer or desert to share.
Please RSVP to ahilton46@gmail.com
Friday, June 22nd
8:30 to 11:00 am – Welcome Open House Breakfast, Pleasure Point Paddle Out & Get Bendy Yoga at the Ferdinand's – Welcome all Club Members and Woodie Owners
This traditional Friday morning get together for Club Members is hosted by Jim & Patty Ferdinand in their home in the Pleasure Point area. Pleasure Point paddle out, waves permitting, at around 8:30 followed by breakfast. Get bendy yoga, with our own yoga master Robin, will start stretching out in the park at approximately 9:30 a.m. Please bring your own mat.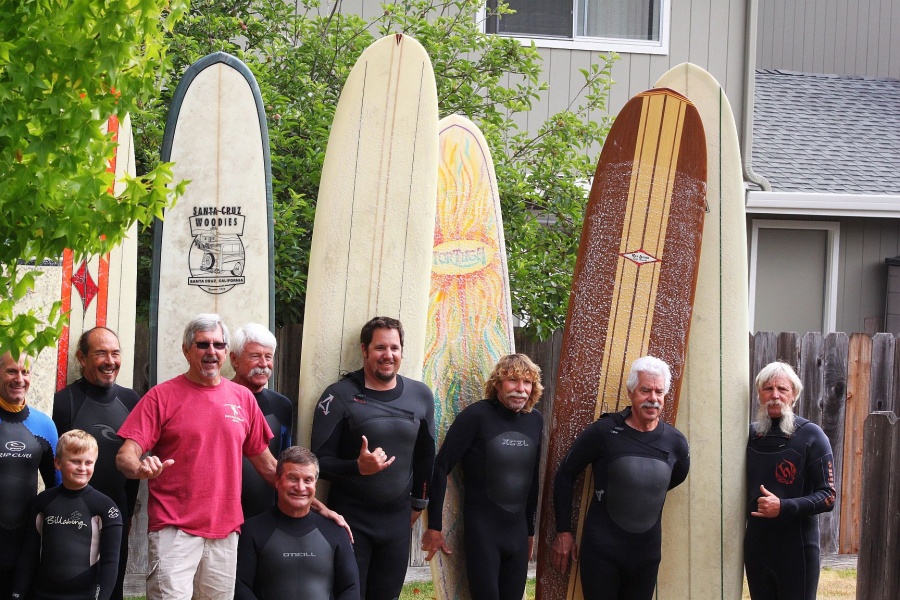 3:00 – 6:00 pm – Friday Welcome Party at the Ocean Pacific & and Wacky-Tacky Hawaiian Shirt, Mumu & Flip Flop Contest – Welcome Club Members & All Woodie Owners
Hosted by the SCW, complimentary refreshments and appetizers will be served poolside. Don't forget to come decked out to win the Annual Wacky-Tacky Hawaiian Shirt, Mumu & Flip Flop Contest. The SCW Next Generation puts on the star studded event and we look forward to some great entries! Categories include: Best Hawaiian Shirt, Best Couple, Best Accessories/Flip Flops and Best Overall. Prizes will be awarded. Grab your friends and join in the fun at 5:30 poolside. It is sure to be a good time and a chance to see some of our friends decked out in their best come to WOW clothes!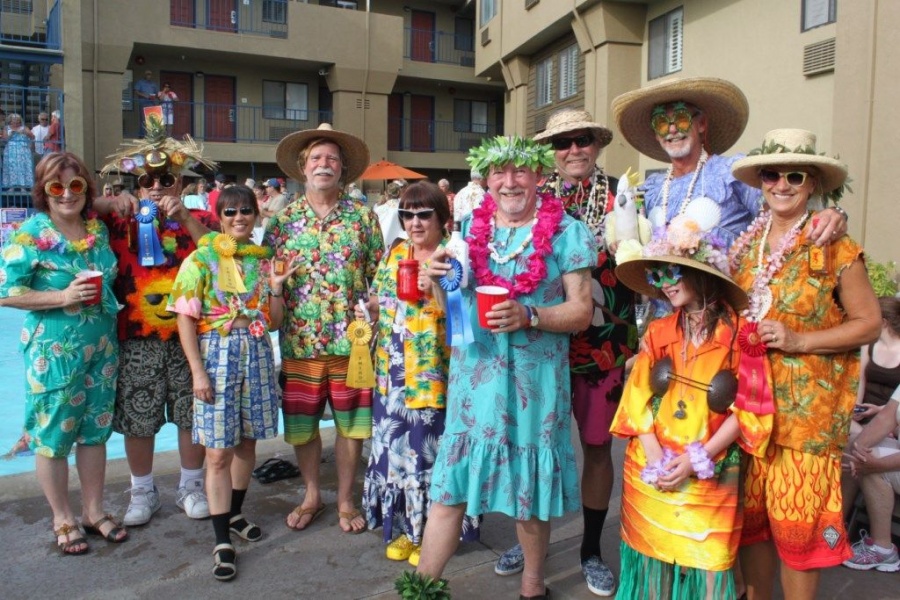 As usual WOW merchandise will be available for pre-sale beginning at 4:00 p.m. This is also the first opportunity to purchase tickets for the Saturday night tailgate dinner. We're changing it up again this year with a brand new caterer offering "Back to the Basics Tailgate Burritos – Fajita Style" so plan get your tickets and tailgate with us! Raffle tickets for Saturday's raffles will also be on sale.
Following the welcome party at the OP don't miss the free Friday night concert on the Santa Cruz Boardwalk. This year featuring former lead singer of Bad Company, Brian Howe, "Can't Get Enough".
Saturday, June 23rd
10:00 am to 3:30 pm – 23rd Annual Woodies on the Wharf
Woodies start rolling onto the Wharf early Saturday morning and are greeted by SCW members with registration packets and welcoming goodie bags. NO PRE-REGISTRATION IS REQUIRED. Activities throughout the day include music, merchandise sales, raffles for 100's of prizes including beach bikes and surfboards and a surfboard shaping demonstration by famed Hall of Fame shaper Floyd Smith of Gordon & Smith Surfboards.
Dog owners should be aware that dogs are not permitted on the wharf.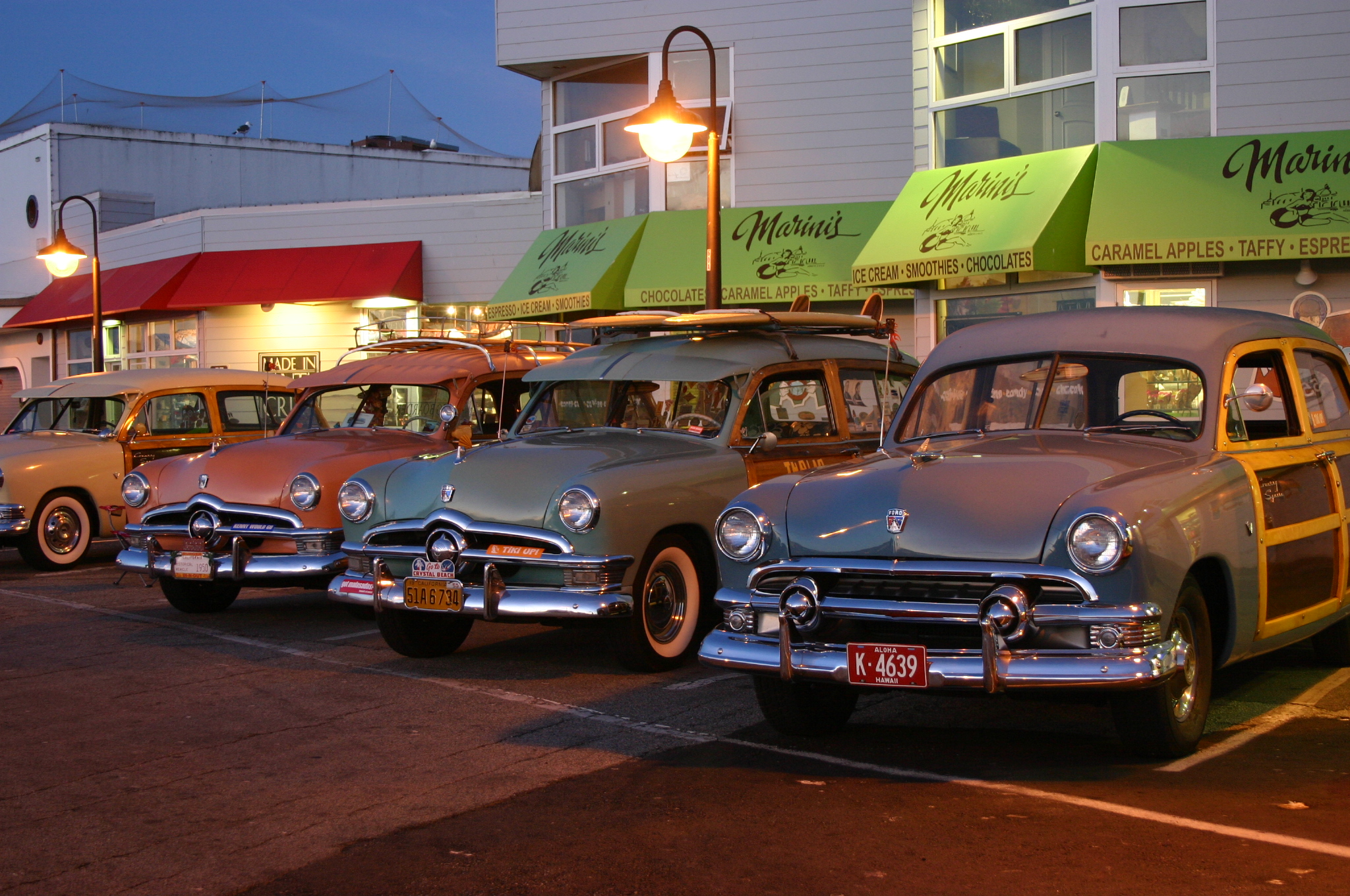 3:30 p.m. – The Parade off the Wharf
The parade off the wharf begins promptly at 3:30 p.m. If you drove your woodie please make sure to check your registration packets for parade instructions so that you can help make this an enjoyable and hassle free parade for everyone.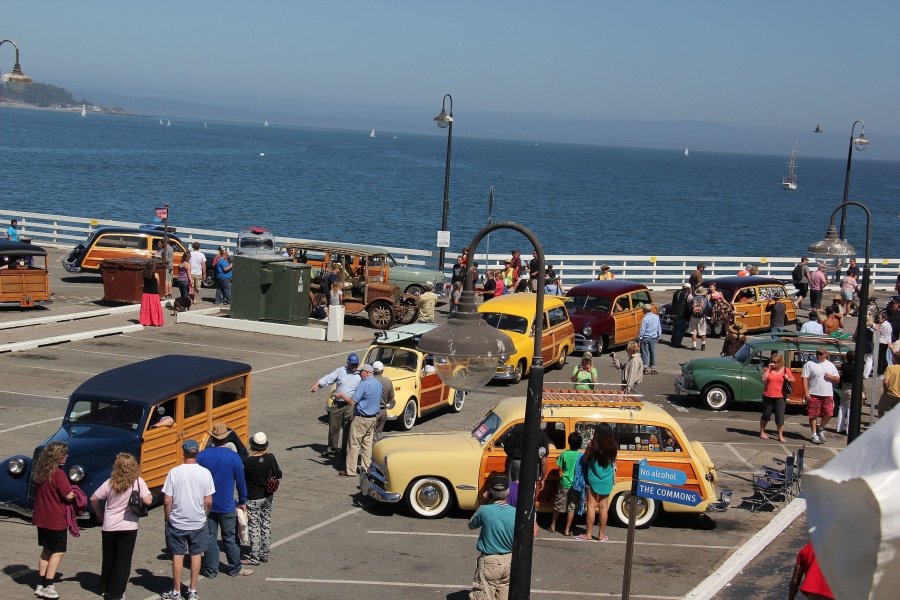 4:30 P.M. – Annual WOW Tailgate Dinner at the Ocean Pacific Lodge
Remember the days of a quick bite while enjoying a tasty meal in the back of your car surrounded by friends in an impromptu setting? This is the 50th year of the summer of love after all so come early, stay late and join us as we have a blast like we did in the past! Dinner tickets will be available at Friday evenings Welcome Party or (if we still have some) Saturday morning on the Wharf at the Raffle sales booth or at the door Saturday evening. Bring appetizers and liquid refreshment and stake out your spot in the parking lot where major Aloha is the order of the evening!
This year we will again have some special surprises in store. A SCW Next Generation Drawing will be held giving a Next Generation surfboard to a lucky winner. The surfboard will be on display and tickets will be sold poolside prior to Saturday evening's drawing.
We will also be having a small, but very special live auction. More details will follow but we are proud to again be auctioning a surfboard shaped specifically for this year's Woodies On the Wharf by our own Shaper extraordinary Floyd Smith.
In addition to a great dinner and special activities the evening will as always be highlighted by our Club Members & Woodie owners raffle featuring a quilt by our quilter extraordinaire Cheryl Luchsinger and music to sing and dance the night away.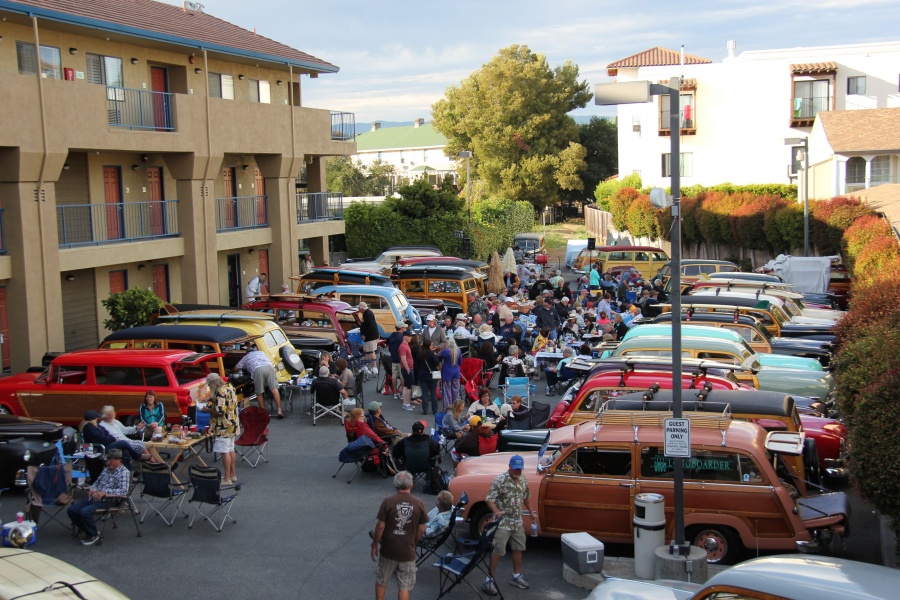 Sunday June 24thth
8:30 a.m. – Sophia's Sunday Morning Woodie Cruise
You're invited to join dozens of woodies for a Sunday morning cruise. First held in memory of Sophia Strini, an early club member who passed away at a very young age, the cruise is now dedicated to all of the club's family and friends who have departed this life, but left a lasting connection to our hearts and souls. They cruised these cliffs with us, taking in the beautiful vistas, the surf and salt air, and expressing their love for family, friendship and wooden cars. Come join us for a cruise in their memory.
Gathering outside the Ocean Pacific Lodge, the route heads north past the Lighthouse along West Cliff Drive. The route then loops back past the Boardwalk to the Santa Cruz harbor parking lot, lot where coffee and pastries will be served courtesy of Santa Cruz Woodies and Java Junction. Along the route locals gather to snap pictures and wave the woodies on. Be sure to join us and enjoy a last hug and SCW Ohana Aloha!
For any questions contact:
Dorma Baker, SCW President
Email: dormabaker@gmail.com
A Special Thanks to the Woodies on the Wharf Sponsors
Please support our sponsors. Without them there wouldn't be a Woodies On The Wharf to showcase our cars.