The Santa Cruz Woodies Club received a special invitation to participate in the 2015 Hillsborough Concours D'Elegance held on the beautiful fairways of the Crystal Springs Golf Course in Hillsborough, CA. on Sunday July 19. Started in 1956, the Hillsborough show has the proud record of being the longest continually running Concours in the world. Displaying cars in the WW category, our Woodies (with two exceptions) were in a non-judged group. Twenty Woodies showed up for this amazing event.
One of our members, Patrick G. McHenry, won 2nd place in the A2 class (American Post-War 1947-1959) for his exquisite 1949 Buick Roadmaster Estate Woodie Wagon which was one of only two Woodies that had been entered to be judged. Congratulations to Patrick for a great win with a beautiful car!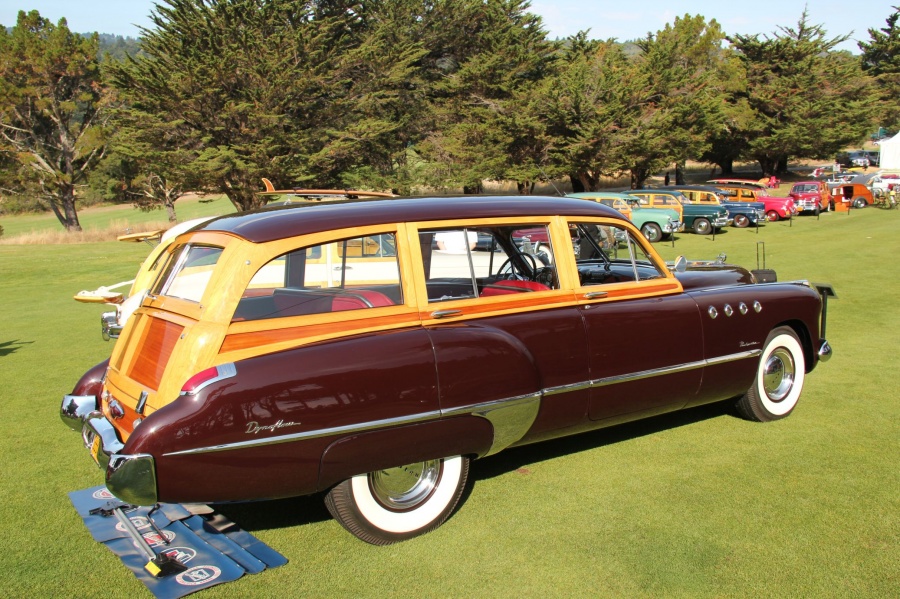 Long distance award had to go to the Meyer's (Ron and Kathy) who drove all the way down from Auburn in their red 1939 Ford Standard Woodie.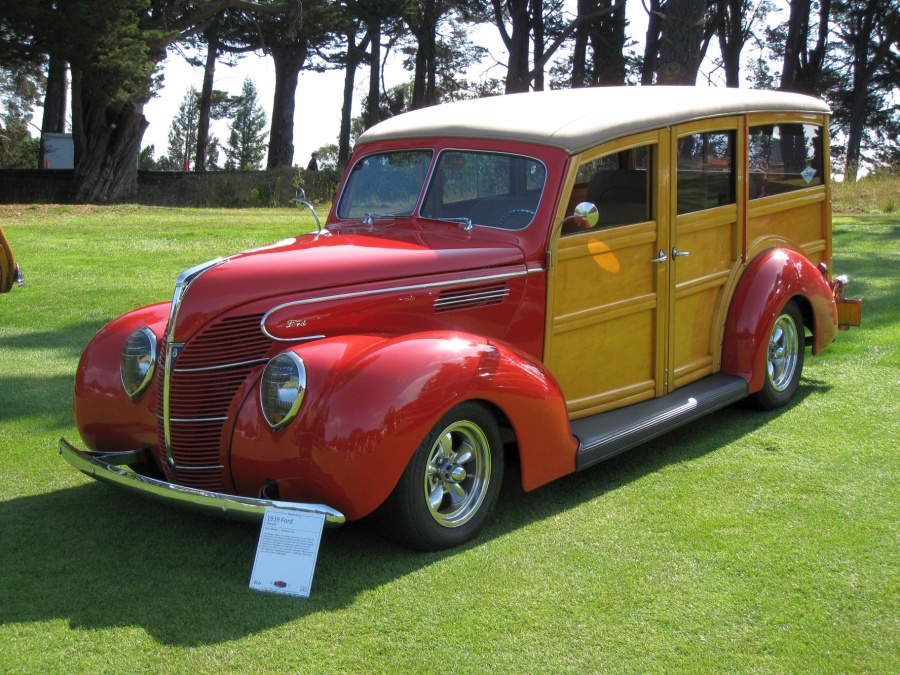 Bob and Laura Faust showed off their new acquisition, a beautiful red 1940 Ford Standard Woodie.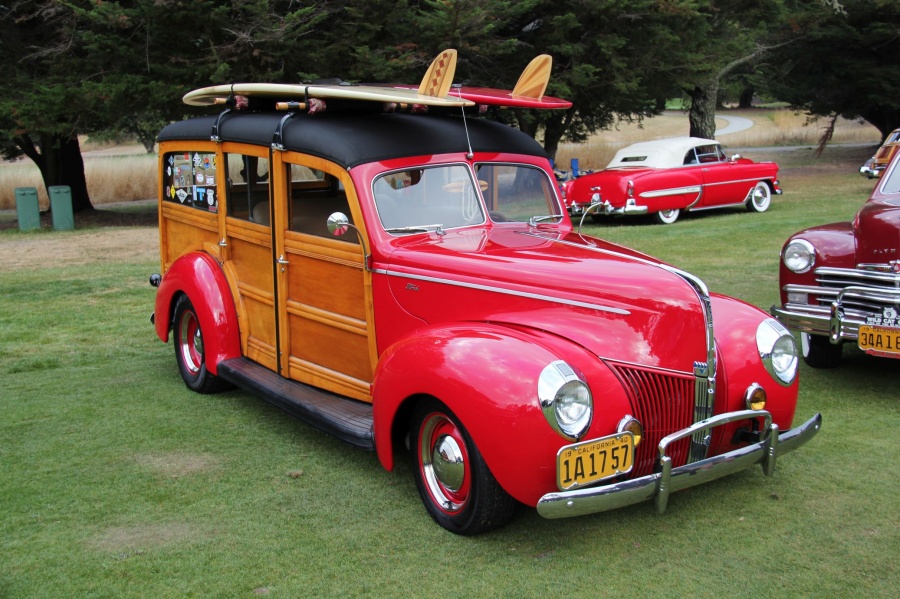 Steven Katkowsky drove over the hill from Ben Lomond and met up with my group in Campbell for the Woodie caravan up to Hillsborough. Steven was driving his 1949 Plymouth P18 Deluxe and pulling a vintage wooden 1946 Wesley Mfg. Slumbercoach teardrop trailer.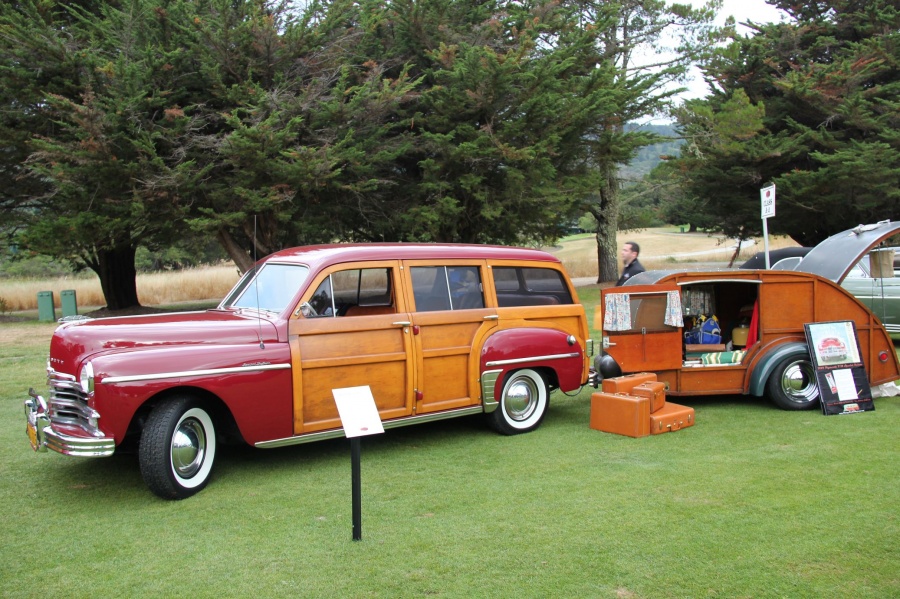 New members Clay and Sherri Coleman of Morgan Hill arrived in their 1941 Ford.  You may remember Clay from the killer drone video he shot of Woodies on the Wharf this year.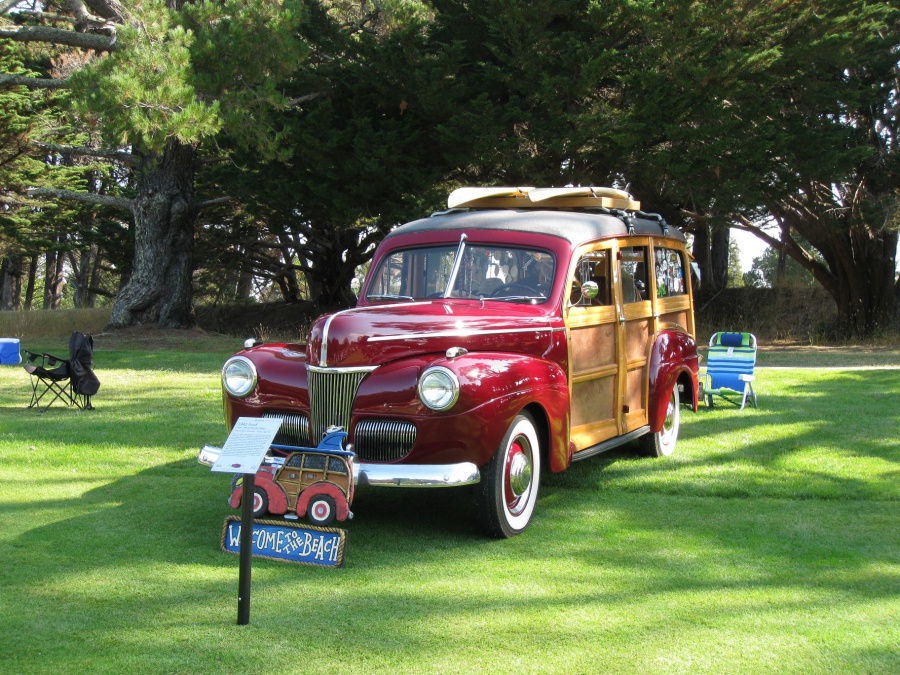 Some newly joined club members that were present included Joe and Audrey Silva in their recently completed, beautifully detailed 1947 Ford.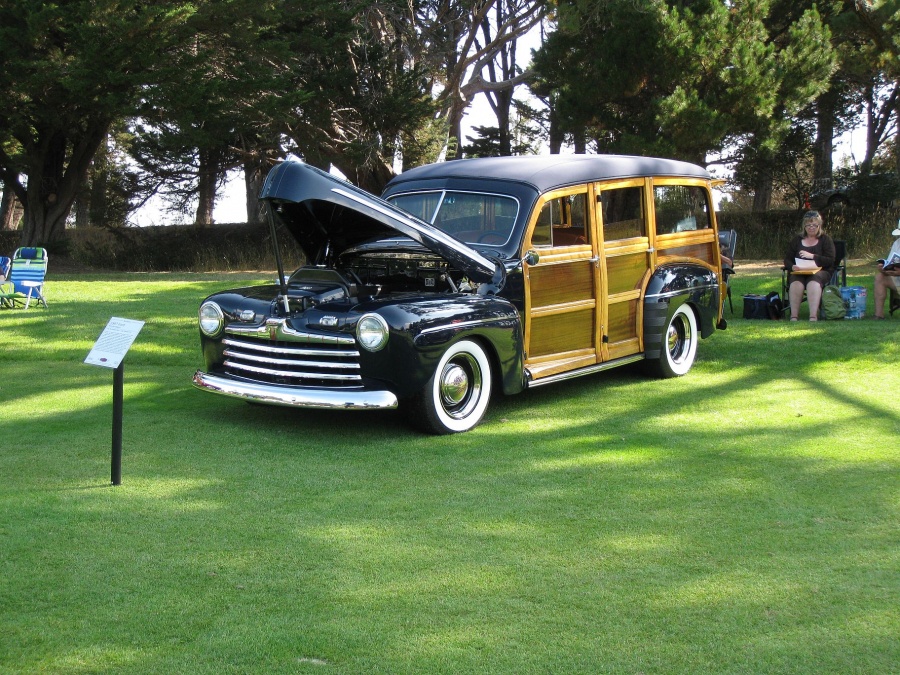 Other club members and their cars in attendance were David and Lesley Dawley (1942 Ford), John and Rae Jean Fleming (1948 Packard Station Sedan), Jim and Ellen Gonsalves (1934 Ford), Hal Fick (1939 Plymouth P8), Rich Workman (1951 Ford), Dick Deluna (1936 Dodge Weschester), Henry Hopkins (1941 Pontiac Deluxe 8) and Ray Tomasello (1948 Buick 59).
A class award went to SCWC member John Mumford who didn't drive a Woodie but instead brought several vintage Hot Rods including a Turquoise 1932 Ford Three Window Coupe that won the People's Choice award. Everybody who entered a car was treated to some great swag including an aluminum plaque with the car description, as well as a Hillsborough Concours messenger bag. Breakfast and a wonderful catered lunch were provided in the entrant tent where we were able to meet and mingle with other car owners. All in all it was a great day on the greens with spectacular cars and interesting people.