When we purchased our 'Woodie', I was really looking for a 1951 Ford Victoria with the hopes of replicating my first car that I built with my Dad. Lots of memories always come flooding back about the time my Dad and I spent working on that car. So, when I saw a very small ad listing a 1951 Ford Country Squire 'Woodie' for sale in the San Jose Mercury News in January 1993, my interest was piqued, because it was a 1951 Ford. The car was sitting in one of twelve very small animal 'holding barns' in Los Gatos, CA. It had rained several days before and the area around the barns was very muddy. Six other folks were looking at the car at the same time and uttering such things as 'this guy would need to pay me $2000 to take the car. Naively, what I saw was a 1951 Ford that was in 'rough' shape, but almost everything that should be with the car, except the wood, was there. The car was priced at $2,500 and I purchased the car several days later for $2,000. The car carrier could not get close enough to the 'barn' in order to load the new 'future driven art'…so a cable was attached and the car was dragged through the mud…flat tires and all.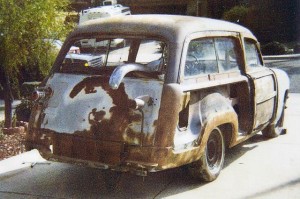 After cleaning the car inside and out, I started doing research on what to do with the car. Really only two choices – restore or modify. The choice was very easy…modify… because I wanted the car to help me re-live the memories surrounding my first 1951 Ford. Bob Juliano had just started building his 'Nifty One' 1951 Ford Woodie which was featured in Rod and Custom. These articles helped me get started with my build list.
The next key person that entered the picture was Ron Wright. I had been told that Ron was building a Ford Woodie and that he could probably answer most of the questions I had about what, where, when, etc. I met with Ron at his shop, Campbell Ford Performance and soon found out that he was light years ahead of me. Even though I had done many cars before, I soon found that I was way over my head…but Ron became my 'go to' guy and a constant cheer leader.
I had my preliminary 'build list' with me during our first meeting and soon found that our 'build lists' were very similar. Ron agreed to help me through the build which took seven years. Campbell Ford Performance started by installing a complete FatMan Fabrication Mustang II front frame clip with 2" dropped spindles. Ron and his staff also installed the Ford power with a 1989 Lincoln Mark VII 5.0 engine and the AOD transmission from the same car. Rear-end from a Ford Ranger pick-up, Baer disc brakes front and rear, Ford S.V.O ceramic coated headers, cross-flow radiator, plus steering, plumbing, wiring and probably many other items.
Body modifications were handled by Michael J's Rod and Custom shop in San Jose. New floor pans, firewall filled and smoothed, power brake booster 'frenched' into firewall, custom fabricated 'swing from above' brake pedal assembly, custom engine bay 'aprons', custom fan shroud, hood nosed and peaked, headlights 'frenched', custom fuel filler, 'bear claw' latches installed on doors and tailgate, side, rear, and door glass areas modified to accommodate one piece glass, custom fabricated lower tailgate smooth metal skin, rear splash pan molded to body, 1951 Ford sedan rear bumper modified to fit rear, front and rear bumpers filled and re-chromed, third brake light flush mounted in roof, custom flush mounted rear taillights and front parking lights, rain drip rails molded to body, custom fabricated 'crowns' to all fender wheel openings, power antenna flush mounted, battery moved to rear, spare tire mounted under body at rear, dash filled and smoothed, custom center console housing transmission shifter, and custom fabricated steel panels covering open area under dash.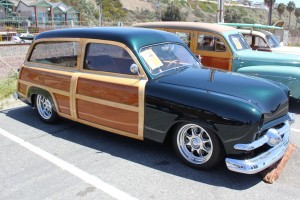 Painting was performed by Michal J's using P.P.G. 'Midnight Emerald Mica'.
Exterior wood was manufactured by Rick Mack which consisted of curley cut maple and ribbon cut Philippine mahogany. Panels were clear coated and installed by Rick.
Interior leather interior was custom fabricated by Sid Chavers Upholstery of Santa Clara. Front bucket seats from a 1996 Chrysler LeBaron convertible with a custom fabricated rear seat.
The car was 'finished' (you know however, modified cars are never really finished!) in August 2000. The car currently has been driven about 22,000 miles since 2000.
The car has received many awards through the years, but two stand out as very special. First was during the Goodguys West Coast Nationals August 2000 (the cars coming out 'party'), Boyd Coddington presented the car with one of his Fab Four awards. The second was the invitation and participation in the Blackie Gejeian's 42nd Fresno Autorama.
Our Woodie has had a special place in our family since the day it was 'dumped' on our driveway in 1993. We have gotten to know some of our neighbors better, the car has taken us places and events that we would have never done without the car, and the car has 'introduced' us to a boat load of un-believable nice and gracious folks that we now call our friends!