Our first woodie 'trip' was to a family dinner at an Applebee's in downtown Santa Rosa. I was very nervous, expanding a couple trips around the block to almost five miles. Then it turned out they were all in Petaluma! Another ten miles???? We can't go that far!!!! We'll never make it!!! We made it and that started a series of trips that have added up to about 40,000 miles over the last five years. Although I had equipped the car with modern suspension, drivetrain and comforts hoping it would be a great 'freeway flyer' you can never be sure.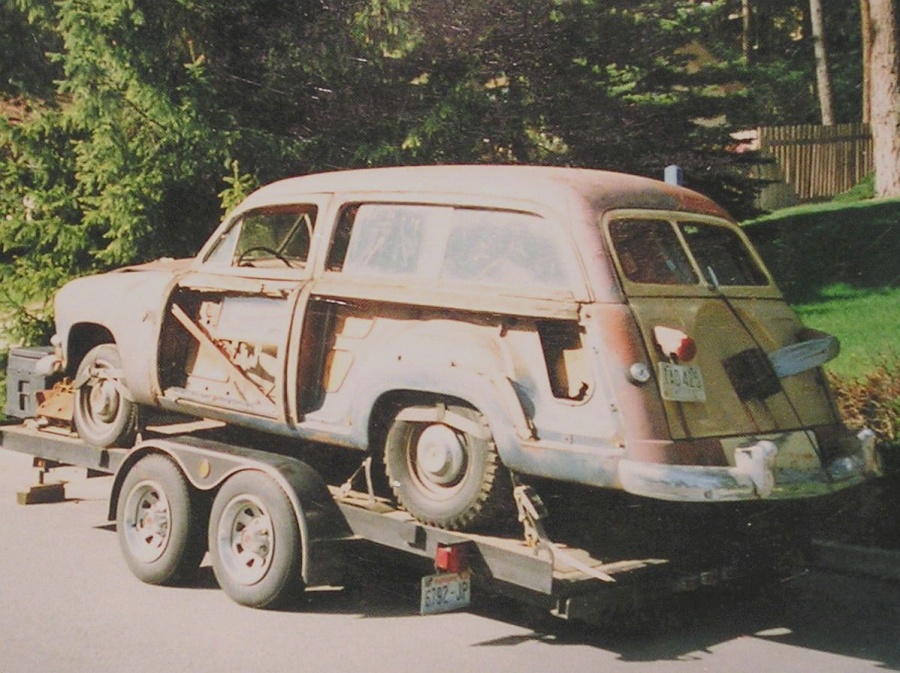 Our first major drive was a "Road Trip!" from Washington, DC to Santa Cruz in time for WOW in 2009. I had a fantasy of 20 woodies driving down the freeway but only three other cars signed up and as time went on my disappointment turned to relief because three was PLENTY! We left the Iwo Jima Memorial as strangers but in no time became fast friends. We had dinner together almost every evening and took in the sights during the day. Gettysburg, Hershey, Indianapolis Motor Speedway, Chicago, Rt.66….. We headed west taking in Mt. Rushmore and it's immediate area, meeting up with Wayne Yada with his 'new to him' '50 Ford woodie. We visited Yellowstone National Park and exited through Grand Teton. The beauty of this country was amazing, almost too much to take in. A visit with Bill Gerrard, woodie photographer extraordinaire brought us to Promontory Point and off to Salt Lake City and Reno for a needed rest. While passing through Nevada's deserts we were buzzed by an Air Force fighter (only seemed a hundred feet off the ground….. it was LOUD!!) who then gave us a 'wing wave' and took off for the horizon. Taking Hwy 80 into San Francisco and ending up at the beach was an amazing feeling! No matter what happens now, we made it! A short drive south to Santa Cruz got us to WOW and special spots on the Wharf. The friendships we made on that trip endure deeply today.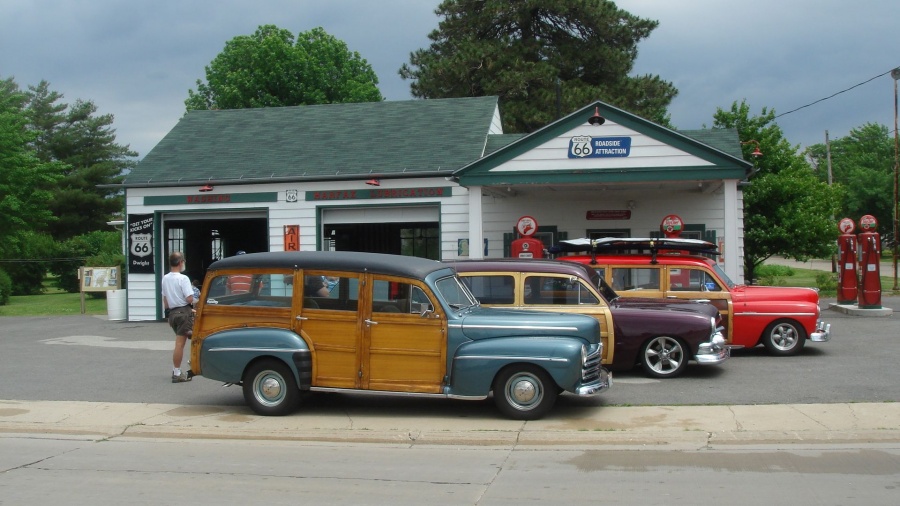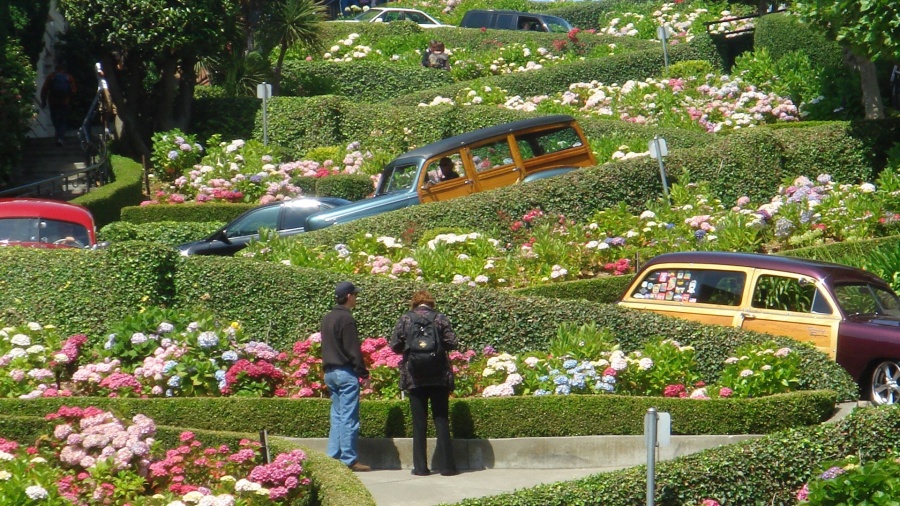 In 2012 we laid out a route that would take us farther than we could imagine. The plan was to cruise down the east coast from Maine to Georgia….. really???? That seemed pretty ambitious. We hustled across Hwy 80 as quickly as we could, only stopping briefly to see friends until we hit Detroit, my home town. A few days rest and we headed east again hitting friends and relatives until we reached Bangor, Maine. We were honored to spend time with Troop Greeters there before pointing south for NYC. The World Trade Center, the Statue of Liberty and surprising a friend filled a few days. The trip along the coast was filled with sights I had heard of but never saw. The Liberty Bell, Independence Hall, Kitty Hawk, Chesapeake Bay bridge, Outer Banks and Savannah kept us close to the water. Heading west brought us through Atlanta (to visit with the Williams' from our original trip) Nashville (Grand Ol' Opry), Memphis (Elvis and Civil Rights Museum) Branson, MO for a show or two and St. Louis to pick up Rt.66 where we left off in '09. Driving the Mother Road was a life long dream and doing it end to end was amazing. Again we finished at WOW with 12,000 miles and eight weeks under our tires.
2013 was a shorter trip up into Canada to visit Banff and Calgary. Driving south (we actually saw a badger cross the road…. gave him plenty of room!) through Montana and Yellowstone again brought us to Denver. Terry's fascination with Buffalo Bill was satisfied with a trip up to his museum and tomb, High Tea at Brown's Palace and Forney's transportation museum got us out of town. On our way to Colorado Springs we hit the Air Force Academy and hunkered down that night for an enormous rain and thunder storm. Cars were washed down the freeway and the road to Pike's Peak was closed. Leaving there we drove a most beautiful two lane road through the absolute wilderness of Colorado (Hwy 24) to Grand Junction where the alternator fried no more than 100 feet from the hotel. A quick trip to NAPA had us ready for the morning road in an hour. More beautiful country got us to Hwy 80 and home.
Last year's trip to the Woodward Dream Cruise in Detroit was something I had wanted to do for years having been a frequent….. ummmmm……. 'driver' on the famed boulevard in my younger years. We decided to head north to visit our son and daughter in law in Portland and Terry's brother in Couer d Alene, ID. Somehow we managed to get two nights lodging in Glacier National Park just before we left and afterward pointed east across Montana, North Dakota and Minnesota. A whole lotta nothing but some spectacular views and the occasional tourist trap. We spent a day in the Mall of America and then headed for the Holy Land of Woodies, Ford's Iron Mountain, MI wood plant where many of our cars' bodies were built. A friendly employee of the Lodmor garbage truck company (present occupants) took me on an unofficial tour showing the remnants of what must have been an amazing spectacle in it's day. We spent a couple nights on Mackinac Island (no cars, just bikes and horses) before beating a path south to Detroit. The Cruise was a fifteen mile long moving car show with few of the types of cars I remember…. low buck, high horsepower cars with some rust peeking our around the fenders…. but lots of high dollar show cars. Our next stop was visiting Terry's Aunt Bea (really!) In Greenville, MI where it rained so hard I had to pull off the road. We took a ferry across Lake Michigan to Milwaukee for a few days rest with friends before heading out into the flatlands. When the Garmin says 'your next turn is in 453 miles' it's gonna be a looooong day. Straight roads and flat terrain makes for unexciting driving….. the high point was seeing a '46-48 Ford woodie pulling a tear drop in the opposite direction!! A trip through the Bad Lands and Mt. Rushmore again put us on the road to Little Big Horn. After an emotional day there we rested before heading home.
This year we'd like to hit southern Utah's National Parks and next year go through the south to Florida….. although I'm not sure I can keep my pinko, left wing, bleeding heart liberal mouth shut that long!
Our trips have covered forty five of the lower forty eight states and Canada and they've been exciting, amazing, awe inspiring, boring, stressful and fun. We have stone chips in the paint and the windshield, a few small dents and one big one that I don't want to talk about. As you would expect, our trips were not trouble free…..the brakes quit in D.C. only to fix themselves as we drove, we've had a few electrical gremlins, a burned plug wire, a bulge in a tire that should not have held air, a fried alternator and an air cleaner fire but that old car takes on a new personality when it knows we're heading out. Each problem was addressed and we moved on, sometimes nervously like our first ten mile trip. The worst that could happen (other than the fire!) was we might end up on a flat bed. I have accepted that eventuality and will continue to motor on. I hope this will encourage you to pack your car and head out…..there's a lot of beautiful country and roads out there waiting to be seen! Just bring your road service card…