Aloha all,
Several of our Santa Cruz Woodie ohana made the trek down to Dana Point for the 20th Anniversary of Doheny Wood put on by Southern California Woodie Club (SCWC). Boy was it worth our while! Not sure who they had to toss into the volcano to appease the weather gods. Whoever it was must have been tasty as the weekend weather could not have been better!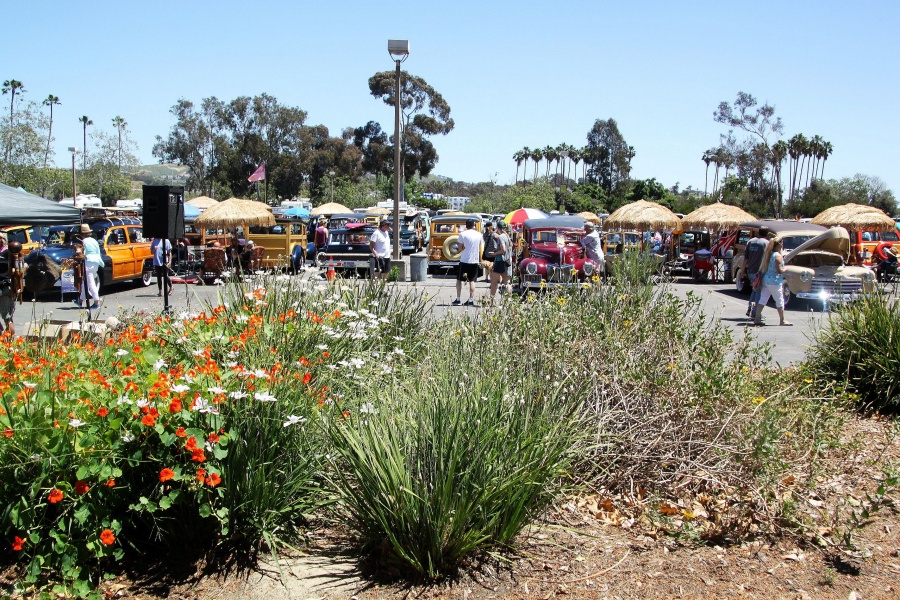 In celebration of their 20th Anniversary SCWC kicked off the weekend Friday evening by hosting a great spaghetti feed by the pool at the host hotel. As always it is so good to get together with those members of our woodie ohana whom we have not seen for a while. A great time was had by all and nobody got thrown in the pool.
Saturday morning dawned so sunny that we never had to grab a jacket. Again organized by our own Aloha Ambassador Mickey Christianson, a Marine Color Guard from Camp Pendleton, opened the event. After the opening ceremony a great complimentary breakfast was provided by volunteers from San Diego Woodies and organized by Tom & Valerie Long.
As the day progressed woodies continued to roll into the show. At last count 131 woodies arrived at Dana Point Marina State Park to enjoy the day. Great raffle prizes were plentiful and the event merchandise provided this year was top of the line.
SCWC killed it this year with their event poster, a painting by famed artist Steve Barton. A special 20th anniversary quilt sewn by Vickie Bauerle, who put together poster art from each of the last 20 Doheny Wood events, was a silent auction item which understandably drew much interest.
Another big hit of the day was the presence of Floyd Smith shaping another beautiful piece of surfboard art using wood from a thousand-year-old redwood tree that he rescued from the forests of Northern California.
After an awards ceremony that included way too many presentations for me to mention, SCWC outgoing President Greg Chandler passed the presidential hat to Janeann Clark and her first man Gary who are sure to keep the club busy this coming year. After the closing ceremony everybody gathered for refreshments and appetizers to peruse all of the great silent auction offerings and to enjoy the music of Greg Chandler; boy can that man sing! A great bar-b-q dinner, catered by Outback, was a big hit and a perfect way to end the day.