Dates & Details
24th Annual – June 23, 2018
The Surf City classic, Woodies on the Wharf, is Northern California's largest woodie show that features more than 200 stylish, pre-1952, wood-bodied cars. Admission is free! Music, woodie goodies and prize drawings will add to the fun. Plus, free bike valet is available.
Santa Cruz Woodies is grateful to the City of Santa Cruz and the Santa Cruz Wharf for continuing to support Woodies on the Wharf year after year.
Want to join us in 2017? Check out the 2018 schedule, hotel details, and trailer parking info to get an idea of what to expect.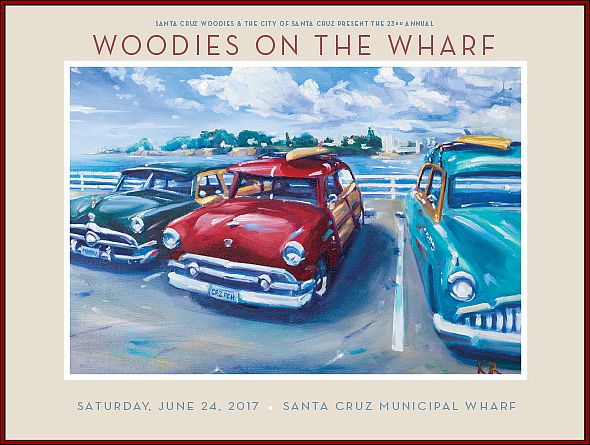 A Special Thanks to the Woodies on the Wharf Sponsors
Please support our sponsors. Without them there wouldn't be a Woodies On The Wharf to showcase our cars.
How It All Started
It all began in 1993, with just a couple dozen members when Santa Cruz Woodies was a fledgling chapter of the National Woodie Club. Many club members had participated in events with their woodies at the Santa Cruz Beach Boardwalk and the cars were always met with enthusiasm, so we decided to put on an event of our own. The Santa Cruz Wharf seemed like an ideal venue, but when we presented our idea to the Wharf merchants, they weren't to sure about giving up their parking to a car show. We would have to convince them that the woodies, and the crowds they would draw, would be worth it.
We found an ally in Lisa McGinnis, the Events Director for the City of Santa Cruz Parks and Recreation Department. She helped convince the Wharf merchants to give it a go. We had no idea how many woodies would show up that first year. We knew roughly how many cars there were locally, but how many woodies would drive in from out of town was anyone's guess. The day before the event, we counted just over three dozen and we knew that the first Woodies on the Wharf would be the second largest gathering of woodies anywhere in the world. After our humble start, our attendance has grown over the years, and is getting close to 200 participating woodies. It has been reported that WOW is the busiest day of the year for the restaurants and shops on the wharf.