WOW, WOW and WOW! What an event! As one of our club members already said, "Perfect weather and perfect friends." As with any successful event, it really takes a great team to make it happen and Santa Cruz Woodies has an amazing team! A major part of the Santa Cruz Woodies team is the partnership we have with the City of Santa Cruz and the Wharf merchants. With the support of the city of Santa Cruz and the wharf merchants, Santa Cruz Woodies presented the 23rd annual Woodies on the Wharf.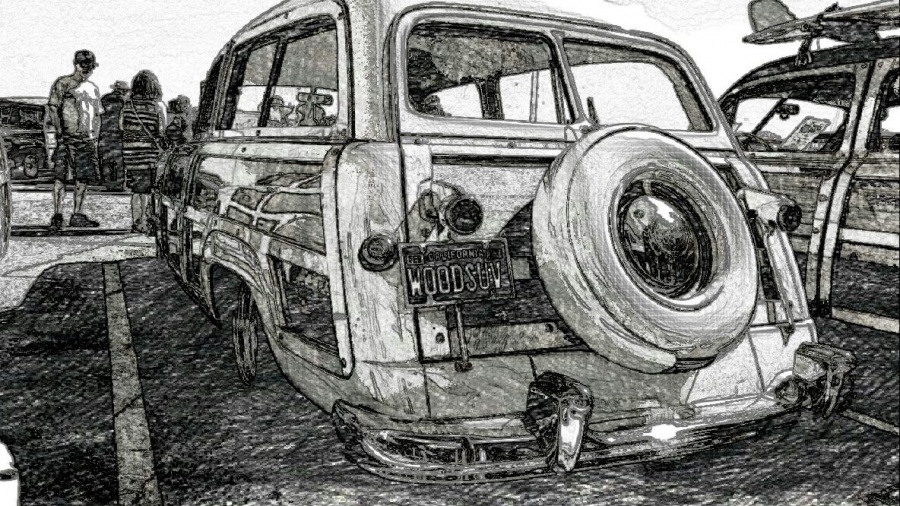 We once again want to thank the Hiltons for starting the weekend off Thursday morning with a very warm welcome, opening their home to all attendees. Chef Allen wowed us with his culinary skills!
The Hilton's event led us right into the fabulous Friday morning breakfast and paddle out at the Ferdinand's. Biscuits and gravy and a little surf, what better way to start the day!
On Friday Tony, Linda & their team treated everyone to another amazing reception, setting the scene for attendees to reconnect with longtime friends and the opportunity to make new friends and acquaintances.
And on to the main event! Saturday dawned with those "early birds" heading out to the wharf, really before the birds were even up. With the sun still well below the horizon, motors were already turning over in the O.P. parking lot. I'll admit that this was the first year that I was a member of the dawn patrol. What an impressive sight. Cars rolling, merchandise folks stocking up, the raffle team setting up their display, and all rolling right along without a hitch. I've been involved with a variety of clubs and events but Santa Cruz Woodies rivals them all for member participation and support.
What an amazing day. Great music, great weather, great cars, and best of all great friends all coming together to create a great day! With Joe Solis's guidance, we all made an impressive and orderly exit from the wharf with our parade waves and ooga horns!
And we're not done yet! While enjoying a delicious parking lot dinner, our SCW member's auction and raffle began. After waiting years to hear his named called, Craig Selvidge is now the proud owner of one of Cheryl's fabulous quilts. Floyd Smith shaped another amazing board for the club to auction, which brought on a record breaking bidding war!
To cap off a perfect day, our club troubadour, Bob Lopez, led us all in an amazing musical conclusion, with the accompaniment of a local, mystery saxophonist. This evening will truly be memorable! It was a perfect conclusion for a perfect day. Can't wait to start planning for WOW 2018!
On Sunday it was time for Sophia's Sunday Morning Woodie Cruise. This event is held in memory of Sophia Strini, an early club member who passed away at a very young age. The cruise is now dedicated to all of the club's family and friends who have departed this life, but left a lasting connection to our hearts and souls. We headed out West Cliff Drive and turned back going past the Boardwalk and over to the Yacht Harbor for coffee and pastries.
---