It's always a great day when woodies come to the Santa Cruz Wharf!  It's an extra special day when woodies come en mass as they did for the 22nd Annual Woodies on the Wharf (WOW).  When that day dawned bright and sunny as it did for the 2016 event then it's one of those double your pleasure, double your fun, kind of days!  But that's not all that the sun shone down on during the WOW week.

The Santa Cruz Woodie Club is not shy when it comes to welcoming all of our Ohana for the event.  As has become the tradition our first kick-off party was held on Thursday evening when all woodie owners were welcomed to a meet & greet welcome party at the home of Alan & Jule Hilton.  Overlooking the Santa Cruz Beach Boardwalk & the wharf this is the perfect location to welcome folks to the best looking woodie show in the west or maybe the world.  Thank you Alan & Jule for another epic event!
Friday morning it was all about the Welcome Party & Paddle Out at the Ferdinand's.  This is the only "member only event" of the weekend when we set aside a special time to spend with our Santa Cruz Woodie Club Ohana.  As with every year we were treated to "Auntie" Joan's bloody mary's & mimosas and an awesome breakfast buffet laid out by Jim & Patty.  Those wanting to work off a bit of breakfast joined Robin Carolyn for a "Get Bendy in the Park" yoga session and those of us who wished we could, but couldn't, watch.  This year the plan was to paddle out and spend a moment on the waves remembering the SCWC Members who we have lost this past year. Unfortunately the gentle swell we had hoped for turned into two foot overhead and so caution was the order of the day.  Instead we "paddled" out onto the lawn and Jim led us in a brief memorial to those members who live on with us in our thoughts and prayers: George Benson, Phyllis Biggs, Murph Graham, Rod Kleman,  Gary Meadors, and Billy Parker.
From there we were off to set up for the SCWC Friday evening open house at the Ocean Pacific Lodge.  Don Iglesias and his crew of "beerista's" had the taps pumping by 3:00 PM and Toni Wilkerson, Lynda Yugo and their "Pupu Crew" had lots of good eats set out by around 4:00 PM.  After that the rush to get first crack at 2016 WOW merchandise was on; folks were in line for Next Generation Membership sign ups, Saturday Tailgate Dinner reservations and raffle tickets.  The highlight of the evening was the 3rd Annual Wacky Tacky Mumu, Hawaiian Shirt & Flip Flop Contest judged by the SCWC Next Generation.  This year's winners included repeat winners from the Lopez family with grandpa Bob and granddaughter McKensy who celebrated their win with a jump in the pool.
New to the contest winners included a contingent of Southern California Woodie Club members who killed it in the couples and flip flop categories.  Joe & Jennifer Solis'  colorful appearance required the establishment of a new category "Best Neon".  From there some headed to the Santa Cruz  Beach Boardwalk to enjoy the sounds of Blue Oyster Cult and some just headed to bed.  After all, the sun rises early on WOW day!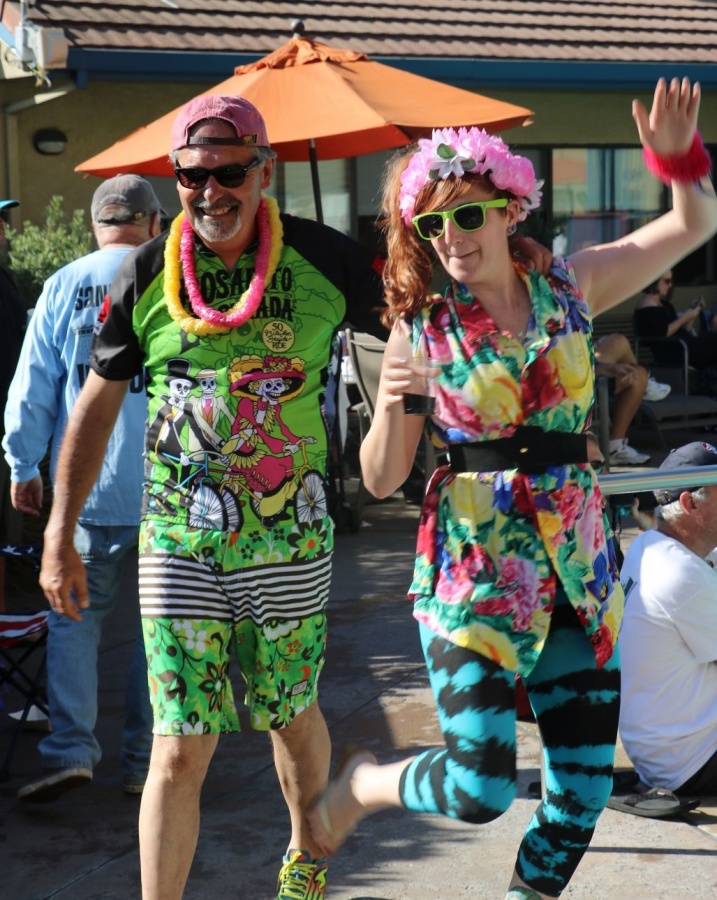 By 8:00 AM Saturday we were shedding our jackets, By 9:00 AM, we were wishing we had all worn shorts! It was a beautiful sunny day and 180 woodies sparkled as they drove out onto the wharf.  Add this to the estimated 10,000 spectators who came out to enjoy the woodies and you get a sense of how special a day WOW is in Surf City, Santa Cruz style!
The diversity of this show is one of its charm's and this year was not a disappointment as woodie owners, want-to-be owners and just plain old woodie lovers mingled and discussed the pros and cons of Ford vs. any other woodie, and the best ways to make wood look good!  Ballots cast throughout the day were tallied and the following awards presented:
David Wilkerson Flat Head Award  –  Tony & Linda Lloyd with their 1951 Ford
Woodie Owners Choice Award – Don & Kathy Borges with their 1966 VW woodie
People's Choice Award – Steve Galvan with his 1937 Chevy
Long Distance Award – Jerry Witt drove from Arizona in his 1946 Mercury
Throughout the day lots of raffle tickets were purchased, and great raffle prizes were given away, all in support of our SCWC charity raffle. The worthy charities which will be supported by this year's proceeds will be determined once all the tallies are in. Following the raffle grand finale when tickets were pulled for bikes and a Michel Junod surfboard, we came to the last prize event of the day, the Pearson Arrow board to be given to a woodie owner.  One of our angels in heaven, George Benson, was clearly in contact with us when the ticket was pulled awarding the surfboard to his daughter Kristina Benson.  Only George could have pulled that off!  A few days after WOW that board was on a plane with the Benson Ohana bound for Hawaii and a Waikiki paddle out in memory of George.
Following WOW and the parade off the wharf, there was just enough time to catch our breath before it was time to gather for the Saturday WOW Tailgate Party at the Ocean Pacific Lodge.
The parking lot was soon filled with folks gathering to enjoy some refreshments and more PuPu's, not to mention the company of good friends.  Dinner was served and more raffle prizes including two beach cruiser bikes were awarded, leading up to a couple of special events.  All weekend SCWC Next Generation sold Next Generation memberships, which included a ticket for winning a Next Generation surfboard.  The lucky winner was Megan Whetzel, the granddaughter of Pete Passoff.   Pete awarded two of his beautiful handmade wooden bowls to Past President Phil Iatomase and this year's winner of the Peet & Flo Award to Rick Mac.  Next up was a special live auction.  First on the block was the original painting of the 2016 WOW poster by Hawaiian artist Paul Forney which went to Don Iglesias and his wife, Cathy Stefanki, current club secretary.  Next up was a very special surfboard shaped specifically for this year's WOW by Floyd Smith. It was a hard fought auction battle but a custom woodworker from Washington state walked away with the board and a huge smile on his face. Rounding out the evening our SCWC Bob Lopez took the mic and treated us to songs as only he can sing.  A special moment came when the mic was effectively stolen from 6 foot tall plus Bob by 2 foot tall Rigby Parise who brought the crowd to tears with her song "Papa" in memory of her Grandfather and SCWC Past President Rod Kleman.  All was a surprise to Grandmother Pat and Mom and Dad, Gillian and Matt.
Always a special moment in Saturday evening's activities is the announcement of the Rich Smart/Aloha Spirit Award winners.  This award recognizes those members who do so much to support and promote the purpose of the club throughout the year.  This year's award was especially meaningful as it recognized kahuna club founder Don Iglesias, his wife Cathy Stefanki and Bob Barbour; all have contributed so much to our club not just this year but since its beginning.  Thank you Don, Cathy and Bob for all you have done over the years!  Another special moment, after raffling off her always special WOW quilt, Cheryl Luchsinger surprised us with another one of her custom quilts done in memory of those of our club Ohana whom we have lost this year.  That quilt was auctioned off with the proceeds going to the National Woodie Club Scholarship Fund, and went home with the proud winner Lynda Yugo.
The WOW finale is our Sunday morning Sophia's Cruise.  Woodies gather outside of the Ocean Pacific Lodge for a cruise up and down West Cliff Drive and on to the Santa Cruz Harbor, where we meet for coffee and pastry at Java Junction.  Each year as we cruise up West Cliff Drive, the locals come out curbside to wave, take photos, and cheer the woodies on.  One house in particular, for the past few years, has been doing more than just throwing a wave; they throw an annual party!  This year we decided to thank them for their support by stopping for a moment to give them a banner naming them the "2016 West Cliff Drive Official WOW Booster Club".  They were so thrilled they have already started planning an even bigger party for 2017!
Sophia's Cruise, named in memory of Sophia Strini a SCWC member who we lost at an early age, is now held in memory of all those SCWC members who are no longer with us on this earth, but who live on with us in our hearts.  This year we again paused for a moment on the sand to send an Aloha to those whose we have lost and send those who were gathered with us off with hugs till we meet again next year on for the 23rd Annual Woodies on the Wharf, held on Saturday, June 24th.